London: Zoos
Zoo Tours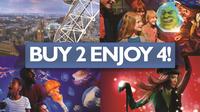 Enjoy London for less with the BIG London Attraction Ticket. Experience 4 of London's top attractions, including Madame Tussauds London, SEA LIFE London Aquarium, the Coca-Cola London Eye and DreamWorks Tours Shrek's Adventure! London for the price of 2!
Spread your visits across 90 days, visit all 4 in one week or even in 1 day. The choice is yours with this flexible ticket.
Coca-Cola London Eye:
At 135 metres, the Coca-Cola London Eye is the world's tallest cantilevered observation wheel, with 40 kilometre panoramic views on a clear day. The gradual rotation in one of the 32 high-tech glass capsules takes approximately 30 minutes offering spectacular views of London and its famous landmarks such as Big Ben, Buckingham Palace, St Paul's Cathedral, Westminster Abbey and Trafalgar Square. The Coca-Cola London Eye is just a short 5 minute walk from Waterloo Underground Station.
Conceived and designed by Marks Barfield Architects.'Coca-Cola', the Dynamic Ribbon Device and the design of the 'Coca-Cola Contour Bottle' are registered trademarks of The Coca-Cola Company.

Madame Tussauds London:
Walk the red carpet at the legendary Madame Tussauds London and meet the world's most famous stars from Hollywood to Bollywood, and The Royal Family to Rock Royalty. With over 30 wax figures, there's also a nostalgic taxi ride through 400 years of London's history and a Marvel Super Heroes 4D movie adventure. Madame Tussauds London is a short walk from Baker Street Underground Station.
© & TM Lucasfilm Ltd. Images shown depict wax figures created and owned by Madame Tussauds.

DreamWorks Tours Shrek's Adventure! London:
Step into and star in your very own hilarious, madcap adventure to the kingdom of Far Far Away surrounded by Shrek and his much loved DreamWorks friends. The world's funniest tour begins when you board a magical 'DreamWorks Tours' red bus driven by the mischievous Donkey, where chaos, calamity and endless fun are the name of the game. Explore the fantasy worlds of Far Far Away and meet everyone from princess Fiona, Puss in Boots, 'Gingy' the Gingerbread man. But beware, Rumpelstiltskin, wearing his 'angry wig' will do all he can to disrupt your tour and stop your return to London. DreamWorks Tours Shrek's Adventure! London is just a short 5 minute walk from Waterloo Underground Station.
DreamWorks Shrek © 2016 DreamWorks Animation L.L.C. All Rights Reserved

SEA LIFE London Aquarium:
Dive in and be wowed by the many strange, beautiful and fascinating creatures of the deep as your journey through the amazing underwater world of SEA LIFE London Aquarium. Prepare for astonishingly close views of everything from Gentoo penguins to tropical sharks. SEA LIFE London Aquarium is just a short 5 minute walk from Waterloo Underground Station.
Special Offer - Buy one pass to save up to 50% on London admissions, compared to booking attractions separately! - Book Now!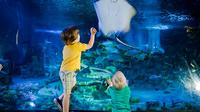 Cruise the Thames River and discover the secrets of the deep at the SeaLife London Aquarium on this adventurous tour in London. Hop-on and hop-off your river sightseeing cruise from any of the four conveniently located piers as many times as you like for 24 hours. Take in famous landmarks including Big Ben, the Houses of Parliament, the London Eye, Tower Bridge, and the Tower of London. Then, visit the SeaLife London Aquarium — where blind cave fish, bonnethead sharks, bowmouth guitarfish, and clownfish live among the 14 themed zones.
Make your way to Greenwich Pier, the London Eye Pier, Tower Pier, or Westminster Pier, then jump aboard your sightseeing boat to begin your tour. With cruises departing every 30 minutes from 10am throughout the year, enjoy the freedom to take to the water at your leisure.

During your Thames River sightseeing cruise, admire top London attractions such as Big Ben and the Houses of Parliament, the London Eye, St. Paul's Cathedral, Tower Bridge, the Tower of London, and Westminster Bridge from your vantage point on the river. All boats have toilets, bars to buy refreshment (own expense), confectionary, and snacks, and an upper viewing deck for photo opportunities.

Afterward, alight from your sightseeing boat in central London and visit the SeaLife London Aquarium — widely considered among the capital's top attractions. Explore 14 themed zones including the Ray Lagoon, the Shark Walk, and the Tidal Reach, and venture into the Pacific Wreck — where sharks swim quietly past the Easter Island heads.

Along the way, enjoy up-close views of diverse marine species such as blind cave fish, bonnethead sharks, bowmouth guitarfish, clownfish, piranhas, sand eels, and sea horses.
(no rating)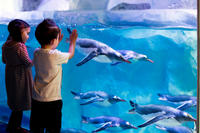 The Sea Life London Aquarium is home to one of Europe's largest collections of global marine life, and you can visit without waiting on the Skip the Line tour. You will find up to 400 species of sea life, including sharks, eels, stingrays, clownfish (like Nemo!) and turtles, across 50 living displays. The Sea Life experience takes you on an interactive journey that includes supervised feeding times and optional touch pools.
Skip the Line! Book your Sea Life London Aquarium trip ahead of time to take advantage of avoiding the main queue. Don't waste time waiting in lines on vacation.

The mysterious Sea Life London Aquarium experience is spread over three floors and starts by taking a submarine-style elevator to the depths of the Atlantic Ocean. Next, take a walk through the stunning glass tunnel underneath a tropical ocean. There is plenty of interaction along the way, from diving displays to optional touch pools and discovery zones. Other species you can see include green turtles, seahorses, octopus, zebra sharks and the ever-popular clown fish.

The true highlight starts as you journey in the deeper, darker zone of the Pacific Ocean. Take a walk on the wild side and watch from a suspended glass platform as 10 species of shark swim beneath your feet. The exciting and diverse underwater world awaits you at Sea Life London Aquarium.

One of the most popular and dramatic displays at Sea Life London Aquarium is the revamped Shark Reef Encounter where sinister Sand Tiger sharks, Bow Mouths, Black Tips and Grey Reefs are (with a shoal of less menacing fish to keep them company!).
Sorry. Nothing fits that criteria.
These might include zoo
More tours
Related pages