Anthropology in London
Anthropology Tours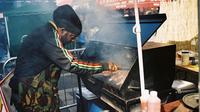 Explore London's unique neighbourhoods such as Brixton. Eat great food, drink great coffee taste traditionally crafted beer. Explore communities and cultures that make London the greatest city in the world. London is so diverse, step away from central London and immerse yourself in London that only the locals know about.
Brixton Village is said to be the best place in London for tasting foods from all around the world. Here, you'll find Europe, India, Asia, Africa, South America and the Caribbean all represented. There are cafés and restaurants dishing up all sorts of flavors, and shops that sell everything from charcuterie and cheese to traditional Chinese medicine. Eat and drink at markets, shops, bakeries, and restaurants.

Brixton is also home to the most unusual, exotic markets in London selling electronics, groceries, clothing and much more. Your guide will introduce you to world famous street art, a graffiti hall of fame and show you amazing murals from the 1980s as well as pointing out great music venues, that have transformed Brixton in to a proper Bohemian Village.

This tour is for small groups and is led by entertaining local guides who will make sure you eat and drink like kings but also educate you with stories that give you insights into the traditions and culture of one of London's greatest neighborhoods. Brixton is also home to one of the largest beer gardens in South London where you will, of course, have a beer and shoot pool! 

What you can expect: Italian coffee, Rubens Empanadas and firery salsa, Grandma Roslyns Home baked goods and Grandpas freshly made juices (only Thursday-Saturday), Brian's Fish, Wings n Tings, Alessandros homemade Italian ice cream, and Brixton Breweries locally crafted beer.

This is not your normal history tour. Discover great cafes, bars, markets, graffiti hall off fame see a side of London like no other
(no rating)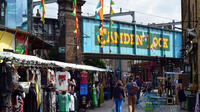 This private tour to Camden will show you the eclectic side of London.  It is the lively, boisterous and unconventional heart for live-music lovers and market goers to an idyllic spot to take in expansive views of London. Explore this charismatic area with a local in the know who will tailor a tour for you, matching your interests and needs.
Meet your local guide at Camden Town tube station before heading to explore the sprawling market and former stables; here you can sample some of the best international cuisine from innumerable food stalls that set up shop every morning, or you can explore shops that cater to very niche subcultures. There are also shops dedicated to selling authentic Persian rugs, handmade fairy lights, pop culture goods from Tokyo, and so much more in the expansive Camden market, that it can be hard to know which way to turn.

After you have had your fill of the market your local guide will lead you further along the canal, pointing out the street art dedicated to Amy Winehouse who lived in the neighborhood on the way to the charming community of Primrose Hill. This was the home of Sylvia Plath and Ted Hughes when they lived in London and also Frederick Engels; today the attractive hidden away street exclusively has independent shops, cafes and restaurants, including a local grocer, butcher, florist, bookshop, French delicatessen and fine wines shop. This is an excellent place to stock up on a selection of cheese and wine before heading up to the top of Primrose Hill, which as the highest hill in London offers some pretty spectacular views of the city.

If you happen to be in London on New Years Eve or any other major holiday, this is an excellent vantage point to beat the crowds that line the Southbank to see the fireworks. Once you've properly relaxed and taken in the sites of the city your local guide will lead you back towards Camden Town via Chalk Farm, pointing out where the best places to see live music are in the many music venues and clubs of the area.
(no rating)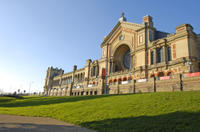 See the best of 'cool Britannia' on a full-day tour of Pink Floyd-related sites. Formed in the 1960s, the progressive English rock band performed together for nearly three decades and, as such, the musicians' hometowns of Cambridge and London are scattered with attractions linked to them. With an expert guide, tour Pink Floyd sites in Cambridge before heading to London to see Britannia Row studios and other hip spots like Notting Hill, Alexandra Palace and Abbey Road!
This small-group tour is limited to 16 people, ensuring you'll enjoy a personalized experience.
Meet your expert guide and set off to the historic city of Cambridge, just over an hour away from London and the hometown of Pink Floyd. From the comfort of your luxury minivan, see the early homes of band members David Gilmour, Roger Waters and Syd Barrett before they 'made it big' in London. Pass numerous gig sites while your guide gives you the lowdown on the cutting-edge band's early days.

On a walking tour of Cambridge, stroll along the city's cobbled streets, admiring the elegantly traditional architecture around the city center. Your guide will talk about the character of this quintessentially British city, renowned for its prestigious university and river punting.

Stop outside Cambridge University, and explore inside at your own expense if you wish. Alternatively, explore more of the city on your own, perhaps grabbing lunch at one of the local restaurants (own expense).

Travel back to London for the afternoon to see some more Pink Floyd sites, as well as a few other pop culture locations. Head straight to colorful Notting Hill , a lively corner of west London that epitomizes everything cool about the capital, with bohemian shops, expensive homes and fashionable markets. See the Tabernacle building where Pink Floyd played gigs in the 1990s, and see sights from Notting Hill, the hit movie starring Hugh Grant.

Venture northeast to Islington, one of London's trendiest neighborhoods, to see Pink Floyd's Britannia Row studios, and then head west to Abbey Rad to stop outside the Beatles' former recording studios. Have a go at re-creating their famous Abbey Road album cover by walking across the street's zebra crossing.

The last site of your day is 18th-century Alexandra Palace, another gig site of Pink Floyd, affectionately known to locals as 'Ally Pally.' Built on top of a hill in Alexandra Park, the palace boasts the some of the best city views that only an insider would know! Walk around the park and enjoy the spectacular views before returning to central London.
These might include anthropology
More tours
Related pages