International Food in London
International Food Tours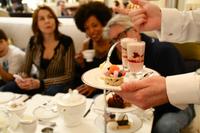 Discover London's diverse culture and cuisine on this 3.5-hour food tour of Soho, one of the oldest and most vibrant districts in the city. Follow a guide along the highways and byways of Soho while learning about the neighborhood's international influences, and pass famous theaters, elegant boutiques and quirky cafes. As you walk, enjoy up to 10 food samples plus tastings of wine and beer in some of the most eclectic and historical eateries in town. Numbers are limited to 12 on this small-group tour, ensuring personalized attention from a guide.
Meet your guide in the heart of Soho and start with a brief introduction to the area to learn a little about its fascinating past. London is a buzzing metropolis boasting a blend of different districts, and so what better way to experience it than by sampling its varied cuisine? Soho is one of London's oldest and most vibrant areas, a veritable melting pot of different cultures. For food lovers it's a real highlight.

Stroll along Carnaby Street, passing its quirky shops and clothing boutiques, and then make your first stop at a trendy little breakfast venue, popular with in-the-know Londoners. Relax over a British breakfast tasting, then — with your hunger sated — continue your tour.

Amble past many of Soho's famous landmarks including theaters, clubs and bars, and listen to your guide point out the highlights of the neighborhood. The restaurant scene is remarkably diverse, and the cuisines of Mexico, Italy, India, Korea, Taiwan and Japan are all represented around the charming streets and alleyways. Engage with restaurateurs and cafe owners, and sample a selection of treats as you go.

Please note that "Tour A" falls Tuesday, Friday and Saturday and "Tour B" on Mondays, Wednesdays and Thursdays. Tour A and Tour B have different menus.

Menu A and B feature a variety of stops. Discover the first Brazilian Temakeria in London, taste delicious chocolate, explore bustling Chinatown, taste a homemade Margherita, dive into homemade gelato with dessert wine, and many other amazing stops.

Tour A finishes up with a visit to Gordon's Wine Bar, while Tour B concludes in an Italian restaurant near Covent Garden.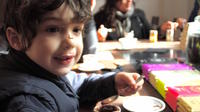 There's no better way to spend Sunday than eating your way around the Soho on a cultural walking tour. With all of Soho's incredible places, this tour offers an excellent exploration of the amazing array of delicious flavours in and around Soho.
This tour begins with a fabulous breakfast at a sustainable British restaurant in the semi-hidden Kingly Court – just off of the famous Carnaby Street. After breakfast, you will enjoy a colourful walk through some of Soho's oldest and most charming streets, eating your way from one interesting international destination to another.
Soho is filled with pubs, bakeries, bars, restaurants and coffee shops. This small borough bordering with some of London's most famous shopping streets like Oxford and Regent Street is always at the forefront in trends - and one thing never lacking, is food.
From traditional flavours to some of the newest fusions in the city, Soho is the place to learn about London's incredible International Food scene. Our London food tour of Soho's International cuisine is an exploration of this neighbourhood's diverse and historical richness.
Our 3.5-Hour food and cultural walking tour will take you through Soho's charming historical streets, as you discover a wide variety of International Foods from some of our favourite places.

London offers numerous choices for eating out , some good and some not so good. Food tours are the perfect way to discover a city, and our food tour was created to bring you the international flavours of Soho. You will discover high-quality, authentic eateries that the locals love, and learn how to avoid flashy food traps-which are generally very low quality and often more expensive.
This tour aims to give you the local feel of Soho and all it has to offer. Soho folklore is rich with colourful stories of writers, poets, artists and historical figures. Anyone can simply walk around Soho and enjoy its vibrant atmosphere. We want to show you other features of Soho that are not always visible to the eye.
Your expert food guide will bring you to the places that have a story and a heart. Places that are not only appreciated by the locals, but special places that you will remember.
Every destination that we chose for the tour, were places that left "US" speechless and very impressed. And most importantly, we want you to walk away with an experience that you will remember and taste again and again.

The theme of this tour in Soho is "international foods", because Soho is considered one of London's oldest multicultural areas.  Immigrants moved in, and Soho initially became known as London's "French Quarter". Most foreigners that came to London, found cheap housing in Soho, and brought with them their incredible cuisines. Amidst the music halls, small theatres and brothels, these immigrants opened up cheap "eating-houses" all over the neighbourhood, making it the "in" place to eat for intellectuals, writers and artists, to find delicious international cuisine.
Your exploration of Soho will bring to life layer upon layer of Soho's rich history, and highlight the cultures that have created so many of London's diverse foods – often Soho being the first place to find them.
These might include international food
More tours
Related pages