Palaces in London
Palaces Tours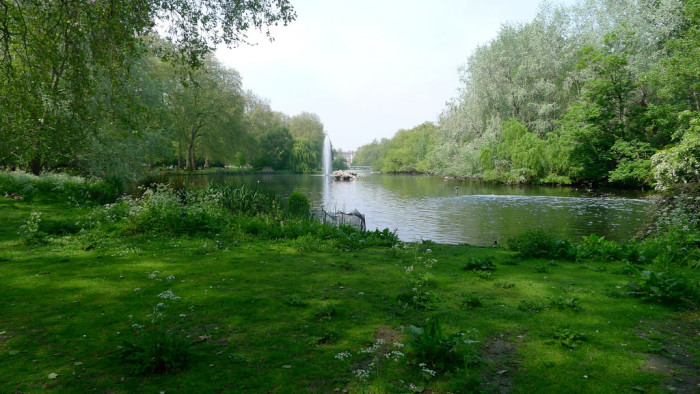 Through a thousand years of history, the British monarchy has moved from center of power to ceremonial periphery, a movement vividly illustrated by the style and geographical placement of the remaining royal palaces and the parks that surround them. While these parks remain opulent reminders of the power and sway of the monarchy, they largely remain as historical and ceremonial reminders of how Britain has evolved from absolute monarchy to a democracy. In the company of a local historian, this London Parks and Palaces Tour visits some of the most important parks and palaces in the city, including Buckingham Palace, Kensington Palace, and Hyde Park, elucidating their importance and exploring their grandeur.
London Parks and Palaces Tour led by an local historian.
Small group walks—6 people max.
Learn the history of the British monarchy through its opulent parks and palaces.
London Parks and Palaces Tour
Starting at Westminster Hall, we will consider how the modern, ceremonial version of constitutional monarchy evolved over time and how that is reflected in the increasing democratization of space, best seen in the parks themselves, but also in the architecture and positioning of the palaces and their increasing accessibility and commercialization.
We'll walk through St. James's Park, once Henry VIII's deer park, taking in St. James's Palace and Clarence House, today home to Prince Charles and Camilla Duchess of Cornwall.
At Buckingham Palace
Upon reaching Buckingham Palace we'll discuss Victoria's choice of the palace, and the establishment with Albert of the modern idea of "The Royal Family" as a kind of domestic ideal. We'll explore the embodiment of this, and other aspects of her rule, in the Monument. From here, we can also examine the ups and downs of the Monarchy in public opinion, as well as the Royal Family today and their place in British society and culture. Those interested in further exploring the monarchy may be interested in our London Royal Tour.
From Hyde Park to Kensington Palace
We'll continue along Green Park and Hyde Park, ending at Queen Victoria's birth place: Kensington Palace. The Palace chosen by William III, supposedly to benefit his health, but also for its symbolism: away from the seat of government, in the country, in a low-key, gentlemanly style. We'll compare Spencer and Clarence House as well as Lancaster House with Versailles, the White House, and the Escorial, demonstrating that while it may be grand, it is an out of the way—even suburban—house.
Those traveling with kids may also enjoy our London Tour for Kids of Kensington Palace.
We'll talk of more recent residents of the palace: Princess Margaret, Princess Diana, and William and Kate, and consider the present and the future for the British monarchy.
Take Aways
At the end of the walk we will have had the opportunity not only to marvel at some of London's grandest and most beautiful landscapes, but we will have also developed an overview of how Britain's constitutional monarchy has evolved and why, seen how that evolution is reflected physically in the deployment of buildings and parks, and begun to understand the place that London's great parks play in the present life and past history of the city.
This walk can be tailored to appeal to everyone from the young, with its stories and fairy-tale glamor, to the more sophisticated trying to understand how the English constitution has become what it is today.
As this walk covers about 3.5 km, clients should wear comfortable shoes.
FAQ
Where do we meet? Where does it end?
The walk begins in the Westminster neighborhood and ends at Kensington Palace. Your confirmation email will have the exact meeting point details along with a map, and emergency phone number.
Do we go inside the venues or just see them from the outside?
We will view these venues from the outside. The walk ends at Kensington Palace, where you are welcome to go inside after the tour.
What if it's raining?
Tours operate rain or shine, but in the case of inclement weather, your docent will modify the tour so more time is spent indoors. It never hurts to have an umbrella on hand.
Is this a walking intensive tour?
This walk covers about 3 miles overall.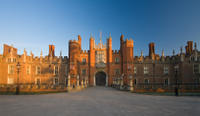 Your pass is valid for one visit–each attraction and is valid for two years from day of purchase |
from
£52.32
Book in advance and jump the queue at the Tower of London, Hampton Court and Kensington Palace. Don't waste time waiting in lines on vacation! Your pass is valid for one visit to each attraction and is valid for two years. You'll have plenty of time to explore the stories and intrigues at each site at your leisure, as part of your own itinerary.
Tower of London
Home to the Crown Jewels, the Tower of London reverberates with dark secrets, where priceless jewels glint in fortified vaults and pampered ravens strut the grounds. Founded by William the Conqueror in 1066, and enlarged and modified by successive sovereigns, the Tower of London is one of the world's most famous and spectacular fortresses. Discover its 900-year history as royal palace and fortress, prison and place of execution, mint, arsenal, menagerie and jewel house.

Hampton Court Palace
Flamboyant King Henry VIII developed this majestic palace after acquiring it in the 1520s. The palace has fabulous furnishings, tapestries and paintings, and is set in formal gardens, which include the famous maze and Great Vine.

Kensington Palace
Generations of royal women have shaped this stylish palace and elegant gardens, from Queen Mary to Victoria, and more recently, Diana, Princess of Wales. Today, the palace also houses a stunning collection of fashionable formal dress worn for state and royal occasions.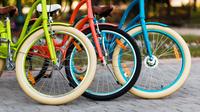 Explore London like never before with this exciting 3-hour bike tour. An expert guide will take you and your small group on a picturesque journey through the capital.
See the Houses of Parliament, Kensington Palace, St James's Palace and the Horse Guards Parade. Cycle through the idyllic Hyde Park. View Princess Diana's beautiful memorial fountain. Discover London history and learn about the fascinating royal family along the way.
You can rent a standard bike or upgrade to an electric bike. 
Exploring London has just got extra fun with this wonderful, 3-hour bike tour through the capital. Departing at 10am, you'll get to see royal palaces, London's most exquisite parks and some of the most iconic British landmarks along the way.
Starting your adventure at Waterloo with an expert guide leading you on the tour, you'll set off to explore London and discover more about its rich history.
See Iconic London Landmarks
As you see some of London's most beautiful sights, including the Houses of Parliament, the London Eye and Kensington Palace, you'll stop off to discuss and learn more about London and the royal family.
Giving you the treat of cycling through London's streets, cycle paths and parks, you'll also come up close to Big Ben and Westminster Abbey and get the chance to see the Changing of the Guard (if it is taking place on the day of the tour) and iconic royal venues. And don't worry; you can always stop off to take a picture along the way!
With this exhilarating and informative journey, you'll pass the exquisite Princess Diana Memorial and cycle through the glamorous West End and then ride back through the glorious Horse Guards Parade before reaching your final destination – Waterloo.
Upgrade to an Electric Bike
Electric bikes are easy to control, simple to ride and will ensure that you get up any hills with ultimate ease.

The tour ends in Waterloo, a central district of London, at approximately 12:45pm. 
(no rating)
These might include palaces
More tours
Related pages