The National Gallery
★★★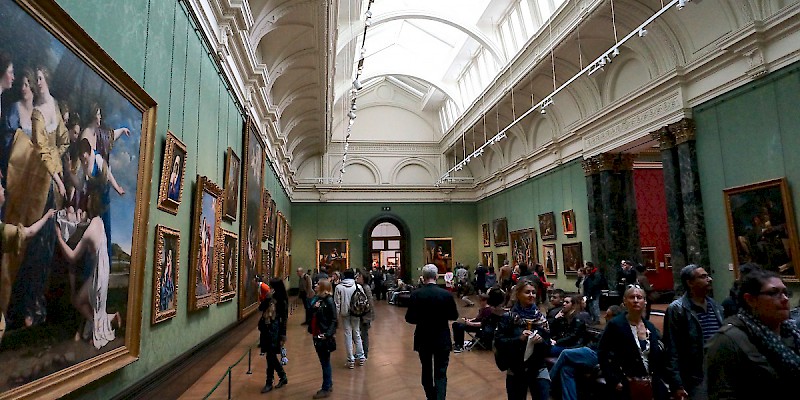 England's greatest repository of Old Masters paintings, with works by Leonardo, Botticelli, Rembrandt, Monet, Degas, and more
This huge neoclassical edifice on the north side of Trafalgar Square houses some of the finest works the 13th to 20th centuries have to offer (start with the oldest paintings, in the modern Sainsbury wing way off to the left of the main entrance).
The works include Leonardo da Vinci's Virgin of the Rocks, one-third of Paolo Uccello's Battle of San Romano, Botticelli's erotic Venus and Mars, and Michelangelo's unfinished Entombment.
El Greco's Agony in the Garden hangs alongside works by other Spanish greats Goya and Velázquez.
Not to be left out, the northern European schools are represented by the likes of Rubens, Vermeer, and a pair of Rembrandt self-portraits.
The 19th-century Brits hold forth with Gainsborough, Constable, and Turner, but are outdone by impressionist masters Monet, Degas, Renoir, Seurat, and Cézanne.
My favorite hidden treasures are da Vinci's huge drawing of the Virgin and Child, in an antechamber off the first room, and Hoogstraten's masterful optical illusion Peepshow.
Tips
Free tours & talks!
The National Gallery offers free tours and talks.
Daily 60-minute tours leave at 11:30am and 2:30pm, with additonal 4pm tour on weekends and a 7pm tour on Fridays.
Ten-minute talks about indivudal paintings are held at 4pm Monday to Friday.
Lunchtime talks at 1pm most Mondays and Wesnesday (sometimes also on other days) offer 30– to 45–minute lectures on individual paintings or themes. Check the website for a schedule.
Take an audio tour
Free guided tours are available, but to set your own pace, donate £4 to carry along the excellent and informative digital audio tour.
(I know pretty much every museum has audio tours these days; I'm just pointing out that this one is really worth it—especially since you got in for free.)
Bring a bag, you have to pay
While admission is free, only tiny purses and bags are allowed inside the gallery. If you have a backpack, you'll have to check it for £1–£2 (depending on size).
Good museum café
The on-site National Cafe is surprisingly excellent for museum chow.
In the neighborhood