The Raven
★★
☆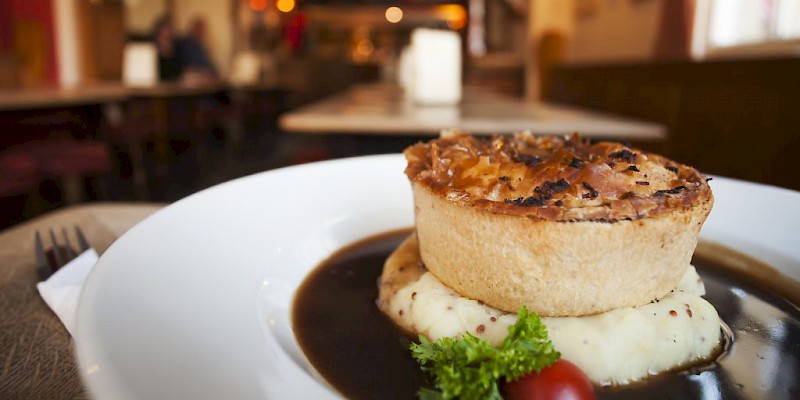 Fabulous savory pies and Real Ales in an old-school English pub
The Raven—installed in a pair of Georgrian townhouses—makes no excuses about being a traditional pub, with a dozen Real Ales on the taps (and another two dozen in bottles) and absolutely no TVs blaring above the bar.
It is also, refreshingly still a family-owned Free House—most British pubs these days belong to one of the big brewery conglomerates.
Oh, and the pies. Those lovely, lovely English pies, piping hot and perched atop a bed of mashed potatoes or chips.
The Raven pie is stuffed with beef, carrots, onions, peppercorns, Raven ale, and thyme. The Deerstalker with venison, bacon, lentils,
winter veg, juniper, thyme, and port.
Then there are the Asian-inflected Fungi Chicken pie, and the Spanish-styled Matador with chicken and chorizo—as well as vegetarian pies with cheeses, asparagus, sweet potato, spinach, and other delights.
They also do sausages, Ploughman's Lunch, mushy peas, and traditional puddings like the sticky toffee and a Bramley apple crumble.
All pies and mains ring in at just under £10.
The upstairs dining room is a bit more formal than the pub downstairs.
One drawback: No one under 14 allowed.
Also in Reid's List: Bath Dining:
Related pages