Residence hotels
★★
☆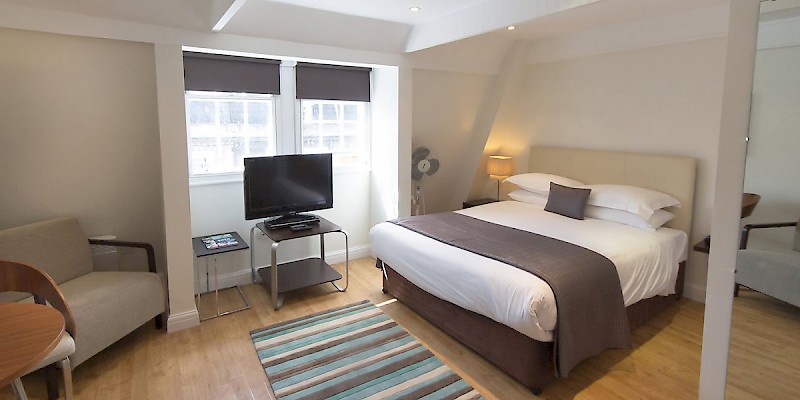 A serviced flat combines the space and freedom (and kitchenette) of an apartment with some hotel-like serviced (front desk, housekeeping, etc.)
A "residence hotel"—sometimes called an ApartHotel, serviced flats, condo hotel, or an all-suite hotel—is a cross between an apartment building and a hotel.
A serviced flat a serviced apartment available for short-term rentals, usually with a hotel-like front desk and some level of maid service—kind of like the all-suites hotels in America beloved by business travelers (and savvy traveling families).
Accommodations are at least studios with kitchenette, if not full-blown mini-apartments,and might sleep anywhere for one to six people.
Guest quarters tend to be a bit functional and bland, with a focus more on basic comfort and amenities rather than style. I've noticed that many residence hotel properties do not seem to refresh things as frequently as hotels, so they tend show their age more—this is far down on my list of what I care about in my accommocations, but I thought you should know.
Residence hotels are usually used mainly for longish stays. A few have three-night or one-week minimums, though most allow you to stay for as few as 3, 2, or even 1 night.
Maid service ia rarely daily. They are usually cleaned weekly, though sometimes more frequently. 
Essentially, it's a bit like getting a time share just for the week or month—only without the whole annoying sales pitch.
Residence inns are often used by folks in town on business for an extended period, but that doesn't mean travelers can't shack up in them as well. 
For example, when I studied abroad in Rome, Italy, a "residence" near the school (the Residence Medaglie d'Oro) served as student housing for the program. (As it happened, I became friends with the girl who lived in the mini-apartment above mine, and as I write this—nearly 25 years later—I can hear her in the yard outside my home office window, playing with our kids. So yeah, I'm a big fan of residence hotels.)
Speaking of which, all-suite hotels are a godsend for traveling families, since you can use the kitchen to treat meals more flexibly and cut down on dining costs. (Also, they tend to be bigger—if duller—than your average hotel room.)
Reid's List
» More about Residence hotels in England
General info about Residence hotels in England
Related pages
Similar interests: