Bus tours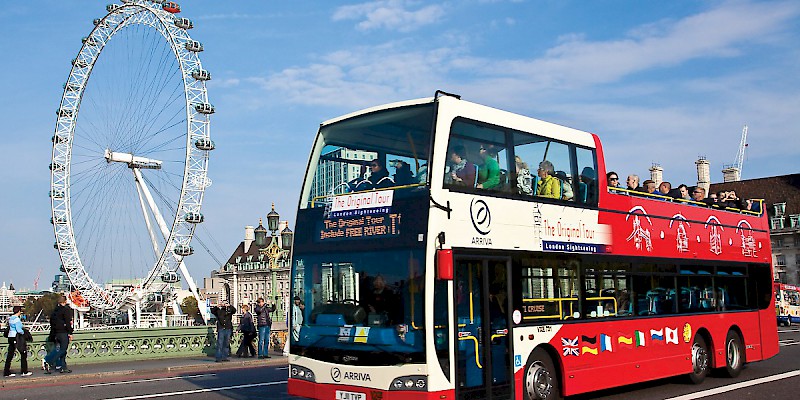 How to find short city sightseeing tours by bus in London and other major British cities
Short city bus tours of an hour or four are great for city orientation, especially in larger destinations.
They're also useful for crossing the major architectural sights off your sightseeing list, and cruising past things you want to see but don't really have the time (or, sometimes, the interest) to carve an extra hour out of your already tight schedule to make a special trip.
Almost every city in the U.K. offers bus tours—either city-run tours or private tours. They may last from a 45-minute quickie to a full day of touring and sightseeing, but usually they average 60 to 90 minutes of tooling past the major sights and monuments of the historic center of town, often in an open-top double decker bus. 
Most buses have either a live guide, or recorded commentary available in a dozen languages. There are three main flavors of city sightseeing bus tour:
The roundabout bus that trundles you past everything in one big loop and you never really get off the bus. These tend to last an hour or two.
The hop-on, hop-off bus that makes a long circuit (or several overlapping circuits) of all the major city sights. These are hugely useful, as you can jump off the bus whenever you feel like visiting a museum or whatever, then board any later bus when it swings by—buses usually come along every 20 to 60 minutes. In other words, it's sort of a cross between a bus tour and a super-cheap group taxi designed specifically for sightseers. Your ticket is usually good for a full day; sometimes you can get multiple-day tickets.
The mini guided tour, where everyone gets off the bus at certain key stops and you're lead by a guide quickly through churches, museums, and other sights. These tend to last at least half a day (3–5 hours).
You can find brochures about these bus tours in any city tourist office, or you might book ahead via one of our partners:
Activities, walks, & excursions
Also in Activities & tours:
Related pages
Similar interests: