Picnic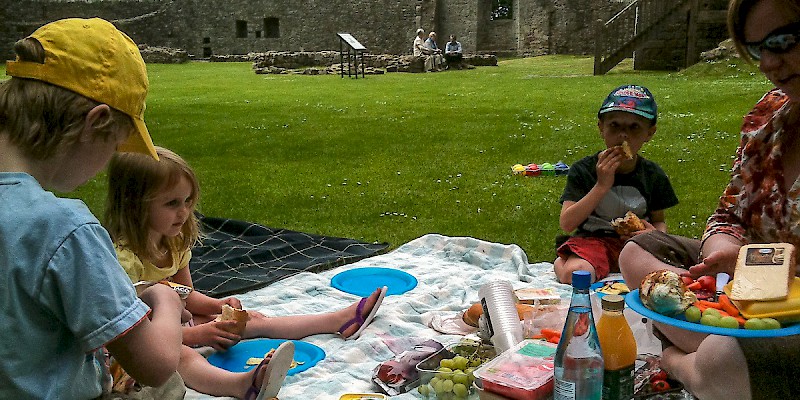 Picnic like a king on the budget of a pauper
A bottle of wine, a crusty baguette, some fresh fruit, local cheeses and salamis, yogurt, and a pastry to top it all off makes a fabulous meal.
Stop at a half-dozen little neighborhood shops, and $8 to $12 per person later you'll have a feast fit for a king. 
Far from being a budget fall-back, picnicking in Britain can be as much fun and unforgettable as a meal in the finest Michelin-starred restaurant.
What with all the restaurants I eat in just to do my job, one of my most memorable European meals ever remains a late-night picnic in a hotel room in Tuscany with my parents and a buddy. 
British produce is usually of very high quality, hailing from local farmers, not distant agricultural conglomerates whose idea of the perfect tomato is one that ships well, whether it has any taste or not. 
Visit a few small neighborhood grocery stores or an open-air market and point to anything that looks like a local specialty. 100 grams is usually the perfect amount or one person. (Often if you just say "picnic for two people," the workers will give you the appropriate portions.)
British grocery store chains include: 
Related pages
Similar interests: