The search for the perfect restaurant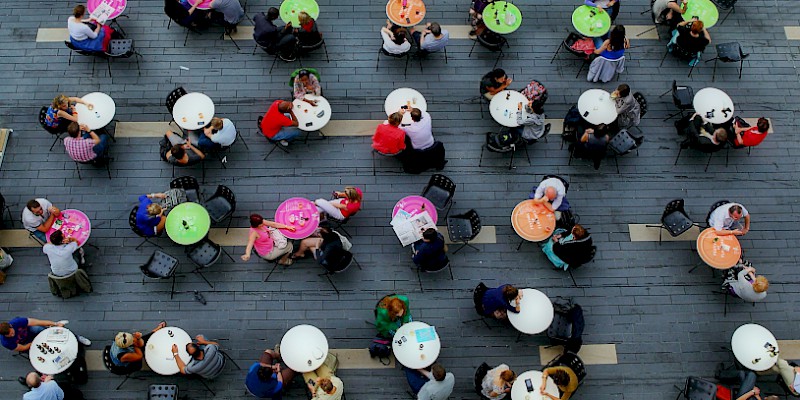 Tips for finding great restaurants in Britain
Here are some helpful tips as you go about the business of choosing your daily eats: 
Look for places that are crowded 
This is the simplest but most important rule. If people are staying away, there's a reason. 
Look in your guidebooks—or not
We travel writers go to great trouble and indigestion to sample a wide range of local restaurants in search of the best and most interesting places.
Read the restaurant reviews carefully and try a few that sound right up your gastronomic alley, but don't feel that you have to patronize only those joints. Poke around to find your own undiscovered gem of a bistro. 
Get advice from your friends
I've eaten some of my best meals on the advice of fellow travelers who've already scoped out a city. Word of mouth is a great way to find memorable meals. 
Ask locals
Taxi drivers, the person from whom you buy postcards, and anybody with whom you strike up an acquaintance are all good people to ask for advice on where to eat, but hotel concierges sometimes are not.
Some of them strike quid pro quo agreements with a nearby joint—it may indeed be a good restaurant, but there's no guarantee. 
Look for places full of locals, not visitors
If an eatery seems to be entirely tourist-ridden, don't even bother. If the locals steer clear, there's usually a good reason.
For years, a smiling bald man has been standing on a sidewalk across the street and just down from the entrance to the Vatican Museums in Rome, waving a menu to attract tourists to the restaurant behind him. The place is usually crowded, but I've never seen an Italian in there—one look at the slop they're serving tells me why. 
Be wary of restaurants in popular sightseeing areas
There may be perfectly fine restaurants and even great little bistros right near a major sight. But the parts of town most frequented by visitors also inevitably draw the largest proportion of low-quality joints—those that pander to out-of-towners by serving bland, uninventive versions of the local cuisine (like that place I mentioned across from the Vatican). 
Case several places before choosing
Look inside to gauge the clientele and read the menus posted outside to compare prices and offerings. 
Find the place with no sign, no menu
Tiny, hole-in-the-wall restaurants with no menu at all or one on a chalkboard will often treat you to the greatest and most authentic food you'll ever find. It'll just be you, eight tables, mamma in the kitchen, a passel of neighborhood regulars watching the soccer match on television, wine from the family estate, and heaping portions of hearty, home-cooked, utterly incredible local food.