Transatlantic cruises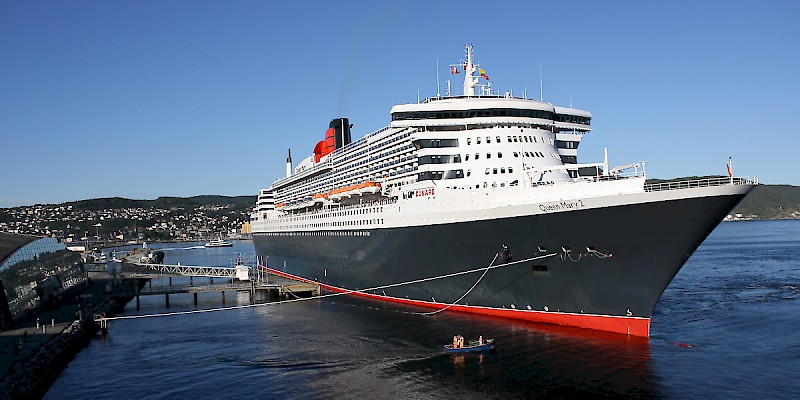 Taking the slow boat to Europe: Crossing the Atlantic by cruise boat from $650
There are two major ways to cruise the Atlantic between the Old World and the New: regularly scheduled transatlantic cruises, and season-end repositioning cruises.
Sailing the QM2
First, scheduled transatlantic cruises. Now that the fabled QE2 (QEII, technically, refers to Her Majesty Elizabeth, Queen of England; QE2 refers to the big boat) has retired to in Dubai, the premier ship crossing the Pond is her niece, the Queen Mary 2, operated by Cunard.
April through October, she crisscrosses the Atlantic Ocean between New York, NY and Southampton, England on six-night journeys starting as low as $899 per person in a cabin for two (plus about $400 per person for the one-way airfare, and another $50 or so in taxes and fees) when booked via a broker such as 
Cruisedirect.com, Vacationstogo.com, or iCruise.com.
Repositioning cruises
Then there's the repositioning cruises. Most cruises ships spend half the year (the winter) on this side of the Atlantic (mostly cruising the Caribbean) and the other half (the summer) on the European side, cruising the Mediterranean, Adriatic, Aegean, and North Sea.
That means, twice a year, they have to reposition the boats from one side of the Pond to the other.
These globe-trotting cruise ships tend to head over to Europe in March and April and come back in September and October (some linger into November and even December), when hurricane season is winding down and Caribbean cruises come back into high demand.
Rates for these repositioning cruises start around $650 per person for two sharing a cabin—though $799 is more typical—and can rise as high as $1,500 to $3,300. (Occasionally they'll plunge as low as $500—and I once saw $337, though that was on a less convenient route, like Mallorca to Panama).
Most cruises last two weeks, and they make several stops on either end (a couple in Europe; a couple in the Caribbean) to keep it entertaining rather than just sheer transportation.
A few examples of cruises and per-person prices for an inside cabin from a recent repos season: 
From $649: Miami to Southampton, England on Celebrity Cruises' Eclipse for 13 nights. It sails via the Bahamas; Bermuda; and Lisbon, Portugal.
From $664: Fort Lauderdale to Southampton, England on Royal Caribbean's Independence of the Seas for 15 nights. It sails via Labadee, Haiti; San Juan, Puerto Rico; St. Thomas; St Kitts & Nevis; and St. Maarten.
From $699: Fort Lauderdale to Southampton, England on Princess Cruises' Crown Princess for 14 nights It sails via the Azores Islands; Lisbon, Portugal; Bilbao, Spain; and Paris/Normandy (Le Havre). (Add on another two weeks cruising around Barcealona, Spain; Corsica, Italy—Rome, Florence/Pisa, and Genoa—and Marseille, France for $1,999 total)
Of course, these cruises are one-way, leaving it up to you to find airfare to or from Europe and also to or from Florida (or wherever the domestic end of the cruise is).
Should I take a cruise?
First of all, there are many types of cruises, from low-priced Caribbean party ships to luxury ocean liners, historic European cruises to masted tall ships in New England, small ship adventure cruises to river cruises. Which is right for you depends entirely on your interests and temperament.
There are definite benefits to cruising. Rather than make you pack and unpack and repack again to trudge from hotel to hotel in order to tour the great cities of Europe, or catch puddle-jumper planes to island-hop in the Caribbean, cruising allows you to unpack just once, settle in, and then it's the hotel itself that scurries from port to port.
Plus: all-you-can-eat buffets.
However....
What if what you want to see isn't located in or near a port? (Also, be careful when a cruise itinerary says "Rome" because it actually puts in at Civitavecchia, a 2 1/2 hour drive north of the city!)
Cruising is most definitely not the way to see a place like, say, Europe for the first time—not if you want to truly experience the culture and people. Cruising is an act of travel that appeals greatly to some, and defines one of the lesser circles of Hell to others. You know which kind you are.
If you've never cruised but the idea appeals, for heaven's sake don't spend thousands of dollars to find out whether you like it on a European trip. Take a $399 cruise in the Caribbean first—to sample the waters, as it were.
U.K. ports of call
Related pages
Similar interests: