Train stations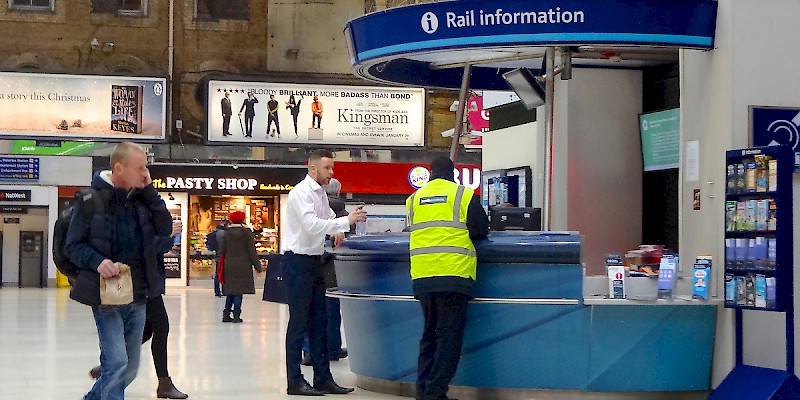 Like the trains themselves, European train stations tend to be clean and user-friendly—with tourist info, hotel booking service, left luggage lockers or offices, and decent snack bars (in case you forget to pick up train picnic supplies in town)
European rail stations are much more than just place to hop a train.
They have ATMs, hotel booking services, photo booths, baggage storage lockers (or a left luggage office), cafes, tourist info offices, newsstands (which, alongside the newspapers, is also the best place to find city maps, local bus tickets, and postal stamps), restrooms, and in bigger cities, often plenty of shops and 24-hour chemists (pharmacies).
If you know how to use the train station for all it's worth, you can spend 20 minutes there when you first arrive in a city and come out of it well-oriented and fully armed for your visit.
Arriving in town
Leaving town
The rail information desk —not to be confused with the city tourist board's desk, because the two won't answer each other's questions—usually has a long line, and the staff was born harried. Use the do-it-yourself information sources as much as possible. 

Modern stations in big cities often have computerized rail information kiosks and automatic ticketing machines , but both can be on the fritz (or feature lines as long as those queuing to talk to a flesh-and-blood ticket agent).

In smaller towns, the tiny station bar may double as the ticket office, but most stations have banks of ticket windows. Try to figure out which window you need before getting in the invariably long lines. The bulk of windows will be for purchasing regular tickets; a few windows will be for people who just need reservations on top of a railpass. A few windows may be for international or special high-speed trains only. 
Tip: Once you board a train, always check with the conductor and fellow passengers to be sure you are on the right train. You may look like an obsessive compulsive dweeb, but at least you won't end up on a train bound for Glasgow when you meant to go to Oxford.