Lucian Freud
A darker, more modern version of Van Gogh
Lucian Micahel Freud (1922–2011) was, yes, the grandson of the famous psychiatrist.
Lucian was actually born in Berlin, the son of Jewish architect, but his family moved to London in 1933 to escape the Nazis (the rest of the Freud clan, including Grandpa Sigmund, followed in 1938).
Lucian Freud's incisive portraits and marvelous nudes live in an (often vaguely depressing) version of Van Gogh's world, all done in thick paint, fluid lines, and harsh lighting.
Admire some of Freud's paintings at: 
Walker Art Gallery, Liverpool
Whitworth Art Gallery, Manchester
Selected works by Lucian Freud in England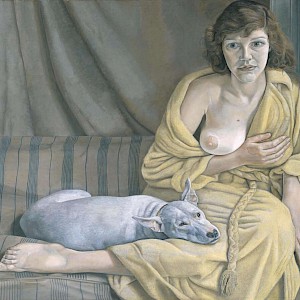 Girl with a White Dog (1950–1) by Lucian Freud—depicting his first wife, Kitty Garman, when she was pregnant in the Tate Modern, London
Where to find works by Lucian Freud in England
Related
Related pages
Similar interests:
Artists & others: