Duccio di Buoninsegna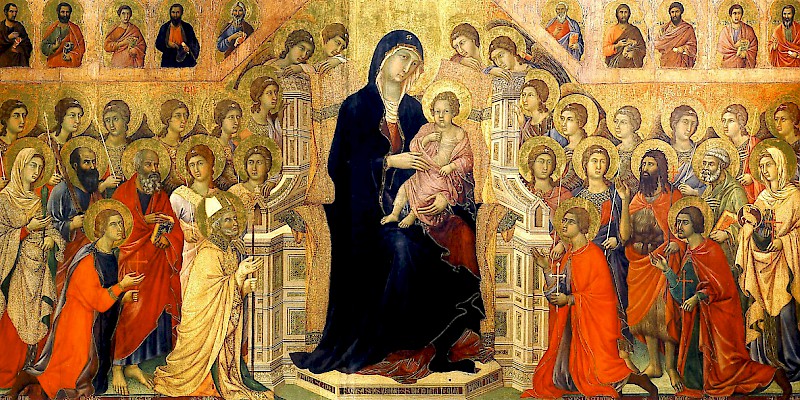 An Italian Gothic master painter of the Trecento
Duccio di Buoninsegna (c. 1255–1319) gave the Sienese school of International Gothic painting a focus in the late 1200s.
While working in a Byzantine tradition—painting with bright egg tempera primaries surrounded by lots of gold leaf on wooden panels—Duccio also started to adapt narrative naturalism, humanity to his figure's faces, and Gothic elements like architectural settings, playing with depth and a crude early perspective, and draping robes with lovely curling, sinuous lines.
Little is known about Duccio's life—save that he was born and died in Siena and worked mostly in Tuscany. He likely trained with Cimabue (as did Giotto).
His workshop also trained the next great generation of Sienese painters, including Simone Martini and Ambrogio and Pietro Lorenzetti.
Selected works by Duccio in England
Madonna and Child with four Angels, Saints Dominic, Agnes and seven Prophets (c. 1312/15) by Duccio in the National Gallery, London
Where to find works by Duccio in England
Related pages
Similar interests:
Artists & others: