Michelangelo Buonarotti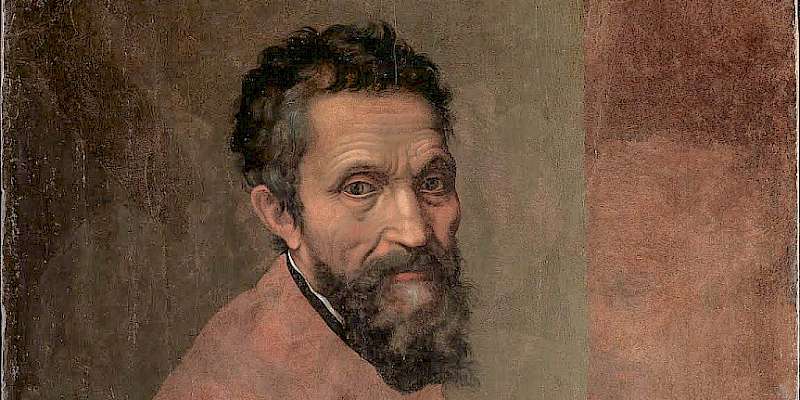 Arguably the greatest artist who ever lived, part of the Holy Trinity of Italian Renaissance masters
Irascible, moody, and manic-depressive, Michelangelo was quite simply one of the greatest artists of all time—and was even acclaimed as the greatest artist of his age while still a teenager.
Supremely talented, divinely inspired, both a great craftsman and insightful innovator, seemingly able to master effortlessly any artistic pursuit he attempted, he would become the High Renaissance's greatest painter and sculptor, and renowned architect, and trusted military engineer.
He also wrote excellent poetry.
Michelangelo's early life
Michelangelo Buonarotti (1475–1564) was born in the tiny town of Caprese, near Arezzo, in the Tuscan hills east of Florence. His Florentine father—an exceedingly minor Tuscan noble—was serving a term as a podestà (visiting mayor) of Capreses.
Michelangelo grew up on the family farm at Settignano, outside Florence, and was wet-nursed by the wife of a local stonecutter—he used to joke that he sucked his skill with the hammer and chisel along with the mother's milk.
He was apprenticed early to the fresco studio of Domenico Ghirlandaio who, while watching the young apprentice sketching, once remarked in shock, "This boy knows more about it than I do."
After just a year at the studio, Michelangelo was recruited by Lorenzo the Magnificent de' Medici to become part of his new school for sculptors.
Michelangelo learned quickly, and soon after his arrival at the school took a chunk of marble and carved it to copy the head of an old faun from an ancient statue in the garden. Lorenzo happened by and saw the skill with which the head was made, but when he saw Michelangelo had departed from his model and carved the mouth open and laughing with teeth and a tongue, he commented only, "But you should have known that old people never have all their teeth and there are always some missing."
The young artist reflected on this. When Lorenzo returned a while later, he found Michelangelo waiting anxiously, eager to show he had not only chipped out a few teeth but also gouged down into the gums of the statue to make the tooth loss look more realistic. Impressed, Lorenzo decided to take the boy under his wing and virtually adopted him into the Medici household.
After his success at age 19 with the Pietà sculpture in Rome, Michelangelo was given the opportunity by the city council to carve the enormous block of marble that became David. He worked on it behind shuttered scaffolding so few saw it until the unveiling.
Legend has it that when Soderini, the head of the city council, came to see the finished work, he remarked the nose looked a tad too large. Michelangelo, knowing better but wanting to please Soderini, climbed up to the head (out of view), grabbed a handful of leftover plaster dust, and while tapping his hammer lightly against his chisel, let the dust sprinkle down gradually as if he were actually carving.
"Much better," remarked Soderini when Michelangelo climbed down again and they stepped back to admire it. "Now you've really brought it to life."
Michelangelo enjoyed great fame in a life plagued by a series of never-ending projects commissioned by Pope Julius II and the Medici.
Michelangelo's contributions to art
Michelangelo's fresco palette broke from the staid tradition of primaries-plus-gold and plunged painting into a festive new world of vibrant color. His figures—carved or painted—twisted and turned and carried their weight believably. Every face he created had a character behind it.
His proportions were mathematically precise and his creations exactingly naturalistic—except where they weren't; Michelangelo knew how to distort or exaggerate the rules to achieve an even greater artistic effect (study The David's hands and head sometime; they're all outrageously oversized, yet somehow they look right).
In art, he worshipped the male nude as the ultimate form and twisted the bodies of his figures (torsion) in different, often contradictory directions (contraposto) to bring out their musculature. 
The list of his artistic innovations is endless, but some of his most intriguing stylistic flourishes included working marble to both polished stages as well as leaving parts chisel-toothed and rough, partly to show the artistic process but mainly to create mood and convey emotion through texture alone.
When forced against his will to paint the Sistine Chapel in Rome, he nevertheless broke almost all the rules and sent painting headlong in an entirely new direction—the mannerist movement—marked by non-primary colors, impressionistic shapes of light, and twisting, muscular figures.
He was also temperamental, whiney, sycophantic without loyalty, and all around a bit of a jerk.
On the Sistine Chapel ceiling job, he was utterly dissatisfied with his assistants and ended up firing all of of them save one he kept on to help grind pigments (and, possibly, to help warm his bed at night; though he maintained a deep and spirited friendship with a woman later in life, that relationship was, by all accounts, utterly platonic and Michelangelo was, by all innuendo, gay).
Michelangelo's report card would definitely have read "Does not play well with others." These character faults were unfortunately indulged or endured by those around him because he was so incredibly good at what he did.
He was the first artist to be treated like a rock star rather than a common laborer or simple craftsman, and might well be counted as the art world's first true prima donna and enfant terrible.
We forgive him, too, because—hey, we all have faults; we're all human.
Michelangelo just also happened to be, quite simply, the greatest artist who ever lived.
Selected works by Michelangelo in England
Entombment (1610) by Michelangelo Buonarroti (1475–1564) in the National Gallery, London
"The Holy Family with St John the Baptist" (1540) by Michelangelo in the Ashmolean Museum, Oxford
One of the Casts Courts (featuring reproductions of works by Michelangelo) at the V&A of London in the The V&A, London
Where to find works by Michelangelo in England
Related pages
Similar interests:
Artists & others: