Claude Monet
The king of the Impressionist movement
The Impressionist movement officially began with an 1874 exhibition in Paris in which French painter Claude Monet (1840-1926) exhibited his loose, Turner-inspired Impression, Sunrise (in the Musée Marmottan), which one critic picked to lambaste the whole exhibition, deriding it all as "Impressionist."
Far from being insulted, the non-establishment artists in the show adopted the word for their exhibits though the 1880s.
Monet is famous for his garden scenes and his waterlillies, the way he played with light and suggested its play off of objects—trees, dresses, and cathedral facades alike—with just daubs of loosly applied color. 
Great Monet quotes
One day Boudin said to me, "Learn to draw well and appreciate the sea, the light, the blue sky." I took his advice.
I would like to paint the way a bird sings.
I didn't become an impressionist. As long as I can remember I always have been one.
Since the appearance of impressionism, the official salons, which used to be brown, have become blue, green and red.
I would advise young artists... to paint as they can, as long as they can, without being afraid of painting badly.
Take clear water with grass waving at the bottom. It's wonderful to look at, but to try to paint it is enough to make one insane.
For me, a landscape does not exist in its own right, since its appearance changes at any moment.
I perhaps owe having become a painter to flowers.
Lots of people will protest that it's quite unreal and that I'm out of my mind, but that's just too bad.
Paint what you really see, not what you think you ought to see; not the object isolated as in a test tube, but the object enveloped in sunlight and atmosphere, with the blue dome of Heaven reflected in the shadows. 
The effect of sincerity is to give one's work the character of a protest. The painter being concerned only with conveying his impression, simply seeks to be himself and no one else.
Color is my day-long obsession, joy and torment.
It really is appallingly difficult to do something which is complete in every respect, and I think most people are content with mere approximations. Well, my dear friend, I intend to battle on, scrape off and start again...
People discuss my art and pretend to understand as if it were necessary to understand, when it's simply necessary to love.
I've done what I could as a painter and that seems to me to be sufficient. I don't want to be compared to the great masters of the past, and my painting is open to criticism; that's enough.
Selected works by Claude Monet in England
Autumn Effect at Argenteuil (1873) by Claude Monet in the Courtauld Gallery, London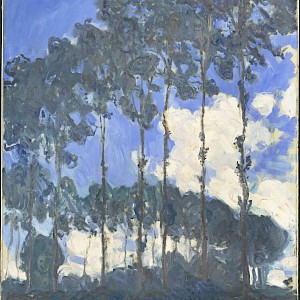 Poplars on the River Epte (1890–91) by Claude Monet in the Tate Britain, London
The Water-Lily Pond (1899) by Claude Monet (1840–1926) in the National Gallery, London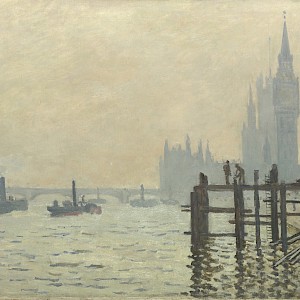 The Thames at Westminster 1871 Westminster (1871) by Claude Monet (1840–1926) in the National Gallery, London
Water-Lilies, Setting Sun (1907) by Claude Monet (1840–1926) in the National Gallery, London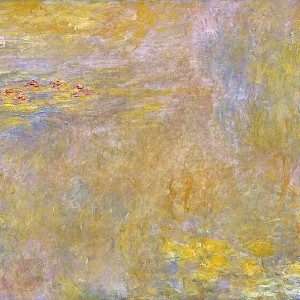 Water-Lilies (1916) by Claude Monet in the National Gallery, London
Where to find works by Claude Monet in England
Related pages
Similar interests:
Artists & others: