Raphael Sanzio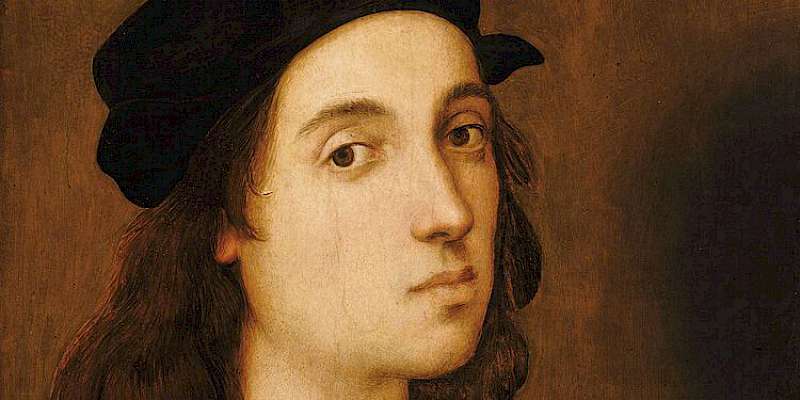 One of the Holy Trinity of the greatest painters of the Italian Renaissance
Raffaello Sanzio (1483–1520)—known in English as Raphael (and sometimes in Latin as Raffaello Sancti)—is rightfully considered one of Western art's greatest draftsman.
Raphael produced a body of work in his 37 short years that ignited European painters for generations to come.
This young painter from this central Italian city of Urbino in Le Marche region spent much of his short career in Rome, where he fused the exquisite limpid clarity and Umbrian style of his teacher, Perugino, with the soft modeling and complex compositions of Leonardo da Vinci and later—in Rome after he suck a peak at the still-being completed Sistine Chapel ceiling—some of Michelangelo's innovative exuberance, palate, and boldness.
In some ways he was the most academically humanist of the High Renaissance greats. His School of Athens fresco, which graces the Leonine papal apartments of the Vatican, is at once a celebration of Renaissance artistic precepts, the classical philosophers whose rediscovery spurred on the Renaissance, and Raphael's contemporaries (the various "philosophers" are actually portraits of Leonardo, Bramante, Michelangelo, and Raphael himself).
He was courtly in manner, his paintings were great crowd-pleasers, and he was much in demand. Frankly, much of his work—though fabulously rendered—is derivative: His earlier work heavily influnced by Perugino, increasingly touched by elements from da Vinci, and his late works spiced up with a dash of Michelangelo.
But with such innate talent, who knows how he might have developed as he matured as an artist if he had not, sadly, died at 37.
Hired for a commission in Rome's Villa Farnesina, Raphael let his assistants do much of the work while the master spent most of his time with his girlfriend, Margherita Luti, known as La Fornarina, the daughter of a baker who lived just down the road from Chigi, just inside the Trastevere gate in the city walls. (His famous portrait of her hangs in the Palazzo Barberini. The purported site old bakery is now a restaurant called La Fornarina.)
It was after one such visit that Raphael came home with a high fever, which quickly worsened until the young genius died on April 6, 1520 from—and this was the official report—a "surfeit of love."
Raphael left nearly finished in his studio the massive painting of the Transfiguration (now in the Vatican Pinacoteca). Mourners carried this through the streets of Rome at the head of his funeral procession before laying Raphael to rest in the Pantheon. The Latin inscription on Raphael's tomb, by Roman poet Pietro Bembo, translates (loosely) as:
Here lies Raphael, by whom, while he lived, 
Nature feared she would be outdone 
and, now that he is dead, 
fears she herself will die.
Selected works by Raphael in England
Portrait of Pope Julius II (1511) by Raphael Sanzio (1483–1520) in the National Gallery, London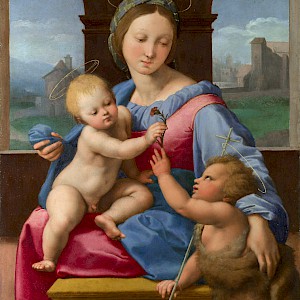 The Madonna and Child with the Infant Baptist (aka The Garvagh Madonna or The Aldobrandini Madonna) (1509/10) by Raphael Sanzio (1483–1520) in the National Gallery, London
The Madonna of the Pinks (1506/07) by Raphael Sanzio (1483–1520) in the National Gallery, London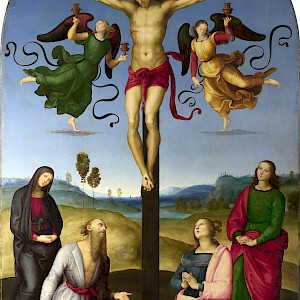 The Crucified Christ with the Virgin Mary, Saints and Angels (aka The Mond Crucifixion) (1502–03) by Raphael Sanzio (1483–1520) in the National Gallery, London
Where to find works by Raphael in England
Related pages
Similar interests:
Artists & others: