Pietro Torrigiano
Italian Renaissance sculptor to the Kings and Queens of England (that's his bust of King Henry VII above)
As a young student, the Italian Renaissance sculptor Pietro Torrigiano (1472-1528) had to flee Florence after breaking the nose of his classmate Michelangelo.
Torrigiano ended up in London, crafting elaborate tombs for the Tudors in London's Westminster Abbey, including Lady Margaret Beaufort, and Henry VII and Elizabeth of York.
The V&A preserves Pietro's terracotta bust of Henry VII.
Torrigiano later moved to Spain, where his temper got in his way one last time. When the Duke of Arcus stiffed him on the payment for a commission, Torrigiano reportedly defaced the sculpture with his chisel. The Duke promptly denounced him as a heretic. Torrigiano died in prison in 1528.
Selected works by Pietro Torrigiano in England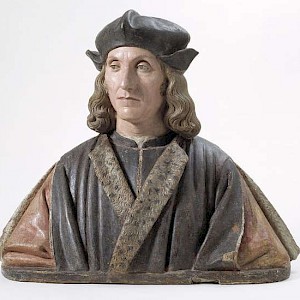 Terracotta Bust of Henry VII (1509/11) by Pietro Torrigiano in the The V&A, London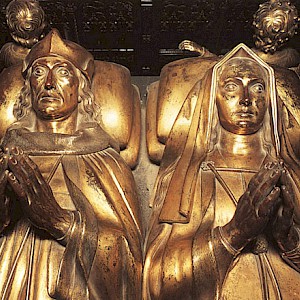 Tomb of Henry VII and Elizabeth of York, by Pietro Torrigiano, in Westminster Abbey in the Westminster Abbey, London
Where to find works by Pietro Torrigiano in England
Related pages
Similar interests:
Artists & others: