Vincent Van Gogh
A tortured post-Impressionist whom history has deemed one of the greatest of all time
Vincent Van Gogh (1853-90) was Dutch, but spent most of his tortured artistic career in France.
While the artistic establishment was virtually ignoring him, van Gogh managed to carry the freedom of impressionism to new heights, and he created an impressive, intensely expressive style all his own.
He combined divisionism, synthetism, and a touch of Japanese influence, and painted with thick, short strokes.
The Netherlands' most famous modern artist was an under-appreciated, tormented genius. Bouts of depression led him at one point into an asylum and at another to hack off his own ear after an argument with the painter Gauguin.
Van Gogh committed suicide at the age of 37.
However, history and modern tastes have been far kinder to Vincent Van Gogh. He remains, by most standards,  the most popular painter in the world today, his paintings auction for record sums, and he sells more museum postcards and posters than any other artist. Not bad for a man who sold only one painting in his lifetime—to his brother, Theo.
Selected works by Vincent Van Gogh in England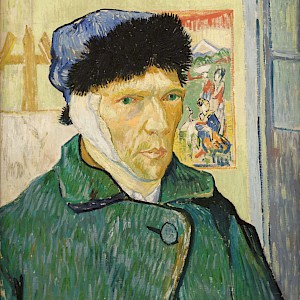 Self-portrait with bandaged ear (1889) by Vincent van Gogh in the Courtauld Gallery, London
Where to find works by Vincent Van Gogh in England
Related pages
Similar interests:
Artists & others: