Ride a double-becker bus
★★★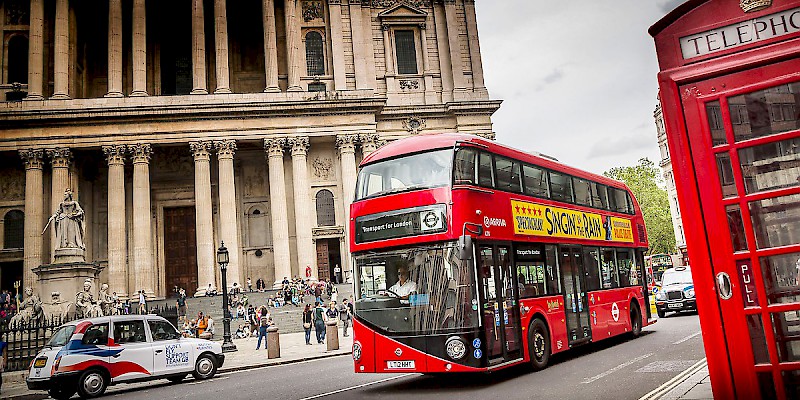 Riding the famous double-decker buses of London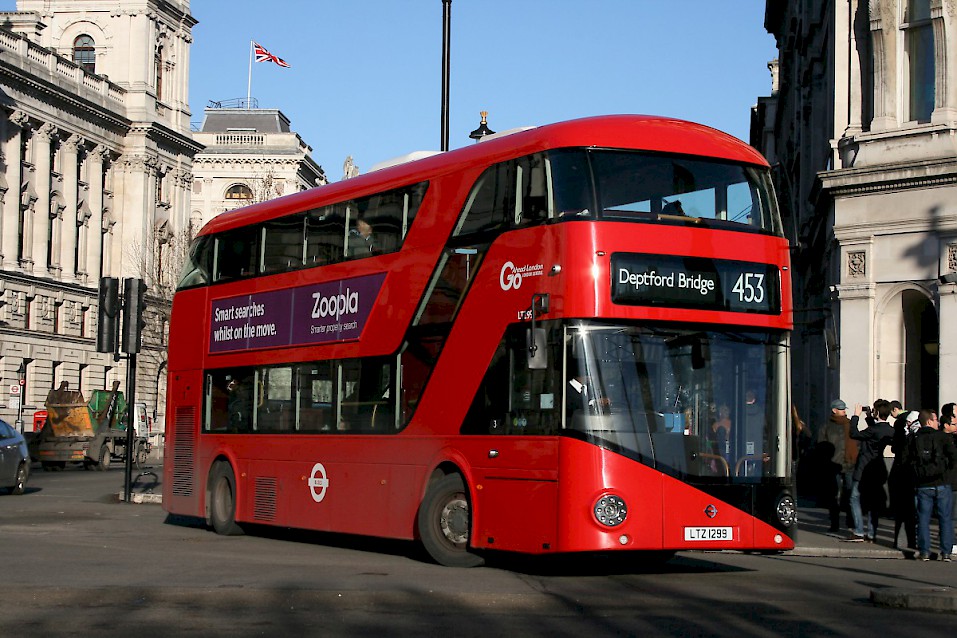 Those red two-story buses are an icon of London—and a fabulous way to take a quick sightseeing tour, a bird's-eye tour of the city at the price of a bus ticket.
Besides, sometimes in London you end up feeling like a gopher, taking the Tube everywhere, popping above ground just long enough to see some sight then scurrying back down to tunnel off aboard the Underground to your next stop. Instead, take a few of those rides on a bus—a bit slower, perhaps, but you'll get to see more of London this way.
When you do, try your best to ride up top in the front seat. The view from here can be slightly panicky or vertigo inducing, as an odd effect of parallax often makes it look as if you are about to shave off the corners of buildings as the bus wends its way through London's gnarl of streets. But once you get used to that, it's great fun.
There are four kinds of double-deckers plying the streets of London these days.
You will mostly see the late 20th century boxy models, the sleek, rounded New Buses, and of course the ubiquitous topless double-deckers converted into hop-on/hop-off sightseeing buses.
The fourth kind, whuch you will rarely see the classic old 1950s Routemaster—at least on public routes.
Most of those you will see have been repurposed as sightseeing tour buses—save on "Heritage Route" 15H.
Where to ride a double-decker in London
Heritage Route 15H (classic Routemaster bus): Trafalgar Square–Charing Cross–Aldwych–City Thameslink–St Paul's Churchyard–Mansion House–Cannon Street–Tower Hill
Route 8 - Oxford Circus to Bow Church
Route 9 - Hammersmith to Aldwych
Route 10 - Hammersmith bus station to King's Cross St. Pancras
Route 11 - Liverpool Street station to Fulham Broadway
Route 12 - Dulwich to Oxford Circus
Route 15 - Trafalgar Square to Blackwall DLR
Route 16 - Victoria station to Longley Way
Route 24 - Hampstead Heath to Pimlico
Route 38 - Victoria to Hackney
Route 55 - Oxford Circus to Leyton
Route 73 - Victoria to Stoke Newington
Route 88 - Camden to Clapham
Route 137 - Oxford Circus to Streatham Hill
Route 148 - Camberwell Green to White City bus station
Route 390 - Notting Hill Gate to Archway
Route 453 - Marylebone station to Deptford Bridge
How to pay for your ride
If you are using a hop-on/hop-off bus, just flash your pass when you board.
If you are using a public bus, you can use your Oyster Card at the little scanners just inside each door.
If you happen to have a Day Travelcard or paper ticket, board at the front to flash this to the driver.
By the way, the open back platform on the New Bus is only available during the day, when there is a conductor on board to assist back there. It's closed behind perspex at night, though the driver can open it, as he does the other doors, after he comes to a stop.
Tours
Double Decker Buses Tours
These might include Double decker buses
More tours
Activities, walks, & excursions
Public transit
Tfl.gov.uk - Covers pretty much all London transportation, including the Tube and buses but also taxis, the DLR and other local light rail systems, trams, the London bike share program, and other one-off transport options.
Nationalrail.co.uk - Covers all of the lines once operated by the (since-privitized) old British Rail. This includes most major British railways, but notably does not cover many urban area light rail systems (such as London, Glasgow, Manchester, Blackpool, Sheffield, and Midland Metro), nor does it cover the Eurostar, Heathrow Express, nor a handful of heritage or privately owned railways. Still, it's the closest thing to one-stop shopping for finding train connections across the mainland U.K. (though not Northern Ireland).
Related