Harrods
★★★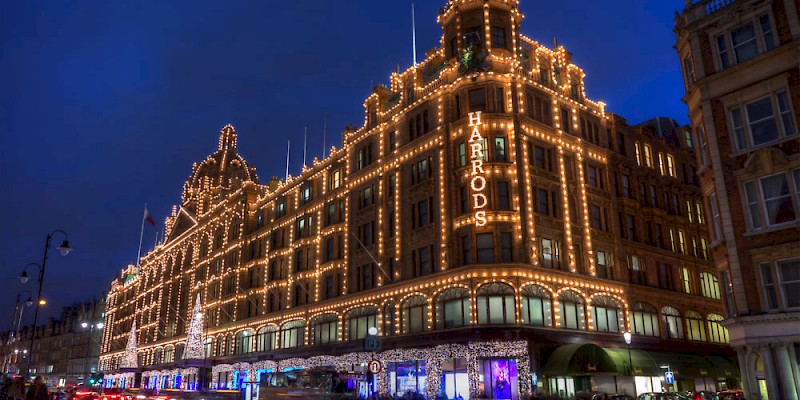 The world's most famous department store
What began as a grocer's in 1849, Harrods is the only store in the world that offers you any item you can possibly want and backs up its word.
Legend has it that a customer once jokingly asked if the Harrods staff could procure him an elephant, to which the sales assistant calmly replied "Of course, Sir. African or Indian?"
With 1,200,000 square feet and 300 departments, the store carries just about everything you can imagine, all of it priced to sell to the throngs of overseas tourists.
Harrods is decidedly posh and more than a bit snobbish — store rules stipulate no jeans, no shorts, and that backpacks must be carried (which is a recent retreat from the old policy of 'no backpacks allowed at all').
Bargains rarely abound (for everyday purchases of any sort, I stick to good ol' Marks & Spenser, Britain's answer to Sears and K-Mart) but I do love dropping by to peruse the fabulous food halls on the ground floor—500 varieties of cheese, anyone?—especially to pick up tins of teas as gifts. This is also the greatest single stop for picking up gourmet picnic supplies—Hyde Park is just up the road.
If you're in town around Christmastime, Harrods is festively lit up.
Harrods Tours
These might include Harrods
More tours
Tips
How long does Harrods take?
If you just want to poke your head in and see, say, the food halls, give it 15–20 minutes.
Shopaholics may spend half a day lost in here.
Harrods has a dress code
Though they finally relented on the "no jeans allowed" rule (which, ironically, remained in effect long after they actually started selling jeans themselves; commerce!), Harrods will still turn away any would-be shoppers in a state of too much undress, or wearing flip-flops, or clad in lewd printed T-shirts, sleeveless Tees, and other fashionable no-nos. Also, small backpacks only, and they have to be carried, not worn.
Here are the current rules direct from their website:
Refrain from wearing clothing which may reveal intimate parts of the body, or which portrays offensive pictures or writing.
Refrain from wearing crash helmets in the store.