Afternoon tea
★★★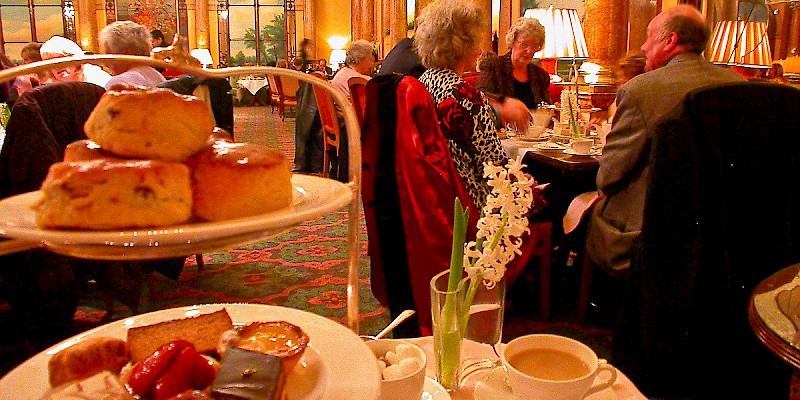 Raising your pinkies at a proper British afternoon tea in London (preferably with scones)
There is something right, proper, and inestimably comforting about pausing in the middle of the afternoon for a cuppa tea and a light meal.
It's not often that you get to indulge in baked goods, the world's most refined caffeine-delivery method, and other tasty comestibles as part of a bona fide local cultural experience.
The history of afternoon tea
The single greatest culinary innovation of the British—not a culture normally renowned for its role in the culinary arts—was the decision to slip a refined, refreshing spare meal into the middle of the afternoon.
They say the tradition of afternoon tea grew out of a custom started by Anna Russell, Queen Victoria's Lady of the Bedchamber and the Dutchess of Bedford, who used to have tea and bread snuck up to her room at Belvoir Castle around 4pm.
Word got around, and soon her friends—also peckish by mid-afternoon—were joining her for tea, cakes, sandwiches, sweets. When the Ducthess returned to London, she brought the rutual with her, and the rest of high society soon picked it up.
The art of the afternoon tea
To this day 3pm and 5:30pm, Brits around the world sit down to a steaming pot of tea accompanied by (at least in more refined situations) a tiered platter piled with slices of cake, teensy tortes, scones with jam and clotted cream, and a selection of delicious finger sandwiches with the crusts cut off—usually a variety, though I believe there's some sort of British law requiring that one of them be cucumber.
(And when I said "Brits around the world," I meant it. I once had afternoon tea in the home of a British couple on a minor island in the Falklands where nesting penguins and albatross outnumbered the handful of people thousands to one and right whales were breaching just off the beach beyond the English garden.)
A full tea serving can run anywhere from £7 ($10) to £57 ($81), depending if you want to go with something opulent in a fancy hotel or famous department store, or prefer to go for the more homey and sensibly priced approach.
(The tea servings themselves are virtually identical in either case; just the settings and bills change.)
Where to get Afternoon Tea in London
London's classiest—and most expensive—afternoon teas are in the Savoy Hotel ballroom where Queen Elizabeth II celebrated her coronation, daily 1–5:45pm, and in the foyer rooms of the ultra-traditional Brown's Hotel noon–6:30pm.

Less pricey—but just as good—are the teas at two of London's legendary department stores: the inimitable Harrods Georgian Restaurant on the fourth floor from 11:30am–8pm (to 6pm Sunday—though note they run out of scones fast); and at Fortnum and Mason's Diamond Jubillee Tea Salon, noon–7pm (to 6pm Sunday) (181 Piccadilly, tel. (0)20 7734 8040; www.fortnumandmason.co.uk; Tube: Piccadilly Circus or Green Park).
All of those teas cost an average of £39–£56 ($56–$81) per person—and here's a word of warning. If a kind waiter pauses at your table and asks, "Would you like some champagne?" The answer is "No!" This is a (terribly polite) scam some of them run that makes it seems like the flute of bubbly is just part of the whole experience, but in fact what it does is bump up your bill from "afternoon tea" to "champagne tea" status—tacking on an extra £10 to £15 ($20 to $30) per person.
If dropping an average of $70 for some tea and finger sandwiches sounds a bit high to you, the Cafe in the Crypt under St-Martin-in-the-Fields church offers an afternoon tea daily noon–6pm for just £6.95. » more
Afternoon Tea Tours
These might include Afternoon tea
More tours
Tips
How long does afternoon tea take in London?
Tea takes, well, as long as it takes you to have it.
At the smaller places, figure on 20–30 minutes. At the fancier joints, maybe 45 minutes to an hour–all depends on how long you linger.
Favorite Afternoon Tea spots in London