Daphne
★
☆☆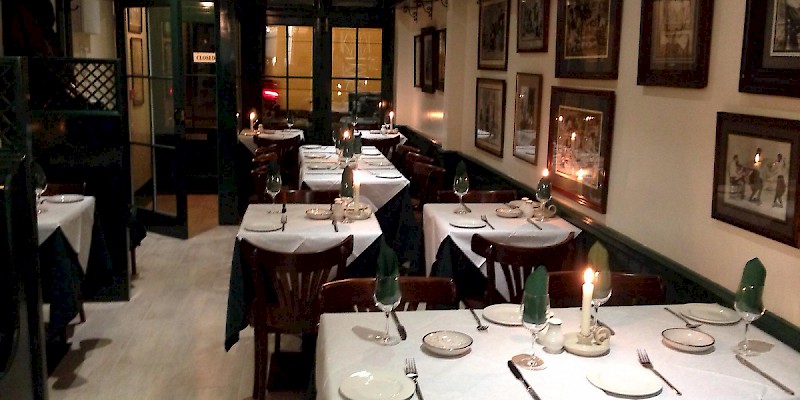 A wonderfully inexpensive Greek Cypriot restaurant in Camden
Reports of Daphne's demise were greatly exaggerated.
This Greek standby—a London icon from more than three decades—finally reopened at the end of 2014 after a 20-month hiatus, still under the ownership of Nicholas Lymbouri. 
(Doubly odd: London's other restaurant called "Daphne's"—a more famous, expensive, Italian place in Chelsea—was also closed much of 2014.)
You can once again get excellent, inexpensive, and genuine Greek Cypriot family cooking—hot and cold meze, cheesy moussaka, and delectable charcoal grilled lamb and fish accompanied by village-style sides like black-eyed beans with spinach, or broad beans with artichokes. 
Or try the fadgi, a classic, Middle-Eastern-influenced Cypriot lentils-and-rice pilaf made with fresh tomatoes daily by matriarch Anna Lymbouri, Nicholas's mother.
Sadly, Nicholas's ageing knees no longer want to spend all day climbing stairs, so the old roof terrace seating is gone—though there is one precious table out on the vine-strewn entry terrace.
Now the evening's 30 lucky diners crowd into tables in the ground floor, surrounded by black and white photographs of village life back on Cyprus.
You can easily keep meals to under £30 a head—and there is a great two-course, set-price lunch for £9.50.