The Anchor Bankside pub
★★
☆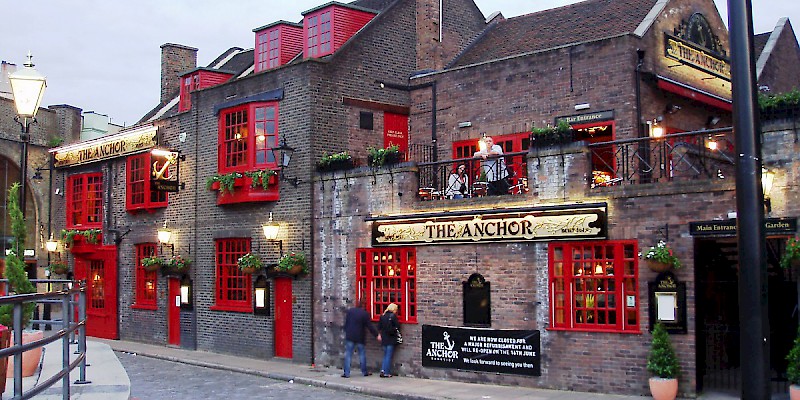 Favorite Southwark pub filled with cozy snugs and literary associations just a block from Shakespeare's Globe
Among my favorite pubs south of the Thames is The Anchor Bankside.
The present pub dates from the 1660s and 1770s, but a pub has been at this location since medieval times.
This is where Shakespeare got sloshed, Dickens Drank, and Samuel Pepys sat and watched the Great Fire of 1666 consume the City of London across the river (and wrote about it in his famous diary).
In the late 1990s, new owners had the temerity, shamelessness, and utter lack of style to modernize the main bar in the pub (how they got around various antiquities protection laws is beyond me), but thankfully in 2008 new-new owners refursbished most of that away—as best they could; at least it's now back to an all-wood look.
Most of the other little bars and snugs creating this multi-level maze of a pub remain—some of them named for famous patrons, including Dr. Johnson, who found fortification here to write his famed dictionary (much of which was penned whilst sitting here with a pint or two... or four).
The pub grub is modern travern fare—hot sandwiches, burgers, bangers and mash, decent fish & chips. Not the cheapest, but pretty good, with most dishes £7–£15.
There is also outdoor seating on a brick terrace by the Thames, and a new rooftop terrace.
Anchor Bankside Tours
These might include Anchor Bankside
More tours