The George Inn pub
★★
☆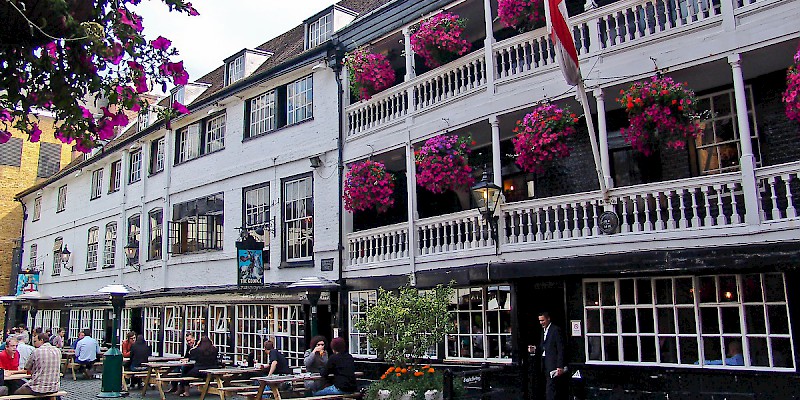 A 17th century pub and National Trust Landmark, set on the ground floor of an old coaching inn
Another favorite pub, The George, is set on the ground floor of an old coaching inn—sort of the motels of their day, with open balconies rising several stories—rebuilt in 1676. Geroge Dickens was once a partron (and it features in Littel Dorritt).
With lots of cozy snugs, low wood-beamed ceilings, and outdoor tables below the galleries of the old coaching inn, it's quite a looker of a pub.
They serve pub grub, burgers and sadnwiches, steaks and shared platters, and a traditional Sunday roast (roast beef, shicken, or pork belly with Yorkshire pudding, roasted potatoes, and veggies)—pretty good, though not overly cheap.
Green King beers are on tap.
Interesting side note: in the late Middle Ages, traveling theater troupes would pull into the narrow courtyard of such coaching inns and use the roof of their props coach as a stage upon which to perform. Guests and pub patrons would line the railings above, tossing down coins to show their appreciation for the show.
This was the beginning of the British theater. (No, seriously.)