Harwich cruise port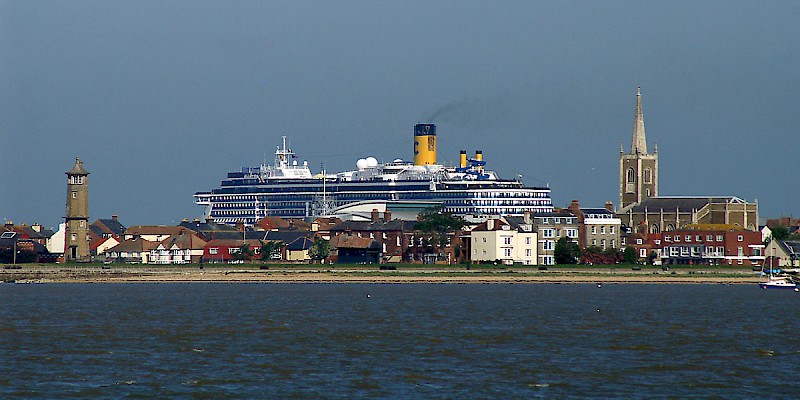 The cruise port at Harwich, England
Where is Harwich? 
This deep-water port in the River Stour outlet on the Essex Coast lies 140 km (87 miles) northeast of London.
The closest airport is Stansted.
What cruise itineraries use Harwich? 
Most sailings out of Harwich are to Scandinavia, the Baltics, and Russia. 
Which cruise lines use Harwich? 
Major cruise lines that use Harwich include Caribbean International, Fred Olsen Cruise Lines, Holland America Line, and Voyages of Discovery.
How can I get from Harwich to London?
Some cruise lines will sell you a port transfer. This is undoubtedly the easiest option—though you usually have to go to the London Victoria Coach Station to board the chartered bus. What they won't tell you is that you can usually get a private transfer—door to door from your hotel—for the same price or even less.
The easiest way to get to the Harwich cruise terminal is a private transfer direct to or from your hotel or Heathrow Airport. Sure, it costs twice as much as the train, but it takes roughly the same amount of total time, plus you get door-to-door service without having to spend the time (and haul the luggage) to get between your hotel and the train station.
BEST: Private transfer: 105–130 min; £38–£53
You can get a transfer from any downtown London hotel—or Heathrow Airport—and the Harwich cruise port. 
Since you are splitting the price of the full vehicle, the more people in your party the cheaper the per-person rate is, from as much as £52 ($74) per person for just a couple to as low as £39 ($55) per person if 8 are traveling together. (Heathrow trasnfers cost a few bucks more.)
CHEAPEST: Train: 100 min; £11–£30
You can get a hourly train from London's Liverpool Street Station to Harwich International—right at the docks—with a change at Manningtree.
Note that you want to get off at the Harwich International Port station, rather than staying on the train all the way into the Harwich Town station.
The ride takes 77 minutes and costs around £9–£16.
(The totals in the heading above are higher than that, but that's because they also add in the time and expense to get a taxi or Tube between your hotel and Liverpool Street station.)
Drive: 105–130 min
If you have a car, you can take the A12 from London to the A120.
General tips of similar interest
Also in Cruise to London:
Related pages
Similar interests: