Southampton cruise port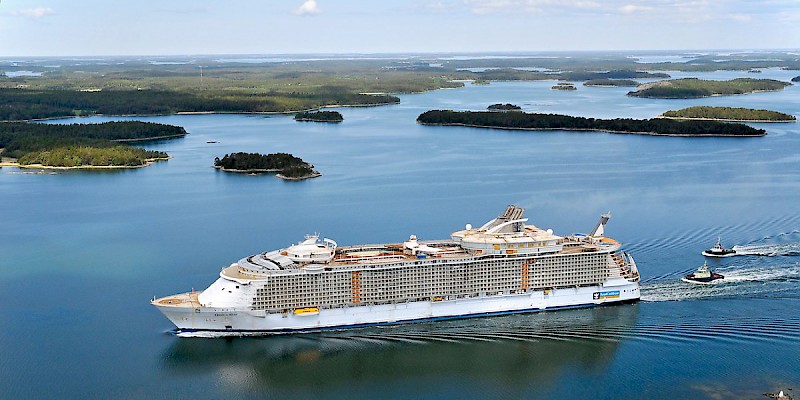 The cruise port at Southampton, England
Where is Southampton? 
Southampton is the queen of British cruise ports, located on England's southern coast about 130 km (80 miles) southwest of London.
Southampton actually has four cruise terminals—City Cruise Terminal, Ocean Terminal, Mayflower Terminal, and QE II Terminal—so be sure you know which one your ship is using.
What cruise itineraries use Southampton? 
Ships sail in and out of Southampton for Transatlantic voyages, the North Sea, Mediterranean, and other Northern European itineraries. 
Which cruise lines use Southampton? 
Southampton is a year-round port for Cunard Lines, P&O Cruises, and Fred Olsen Cruise Lines, and a summer base for Celebrity Cruises, Holland America Line, MSC, Oceania Cruises, Princess Cruises, Regent Seven Seas Cruises, Royal Caribbean International, Saga Cruises, and Silversea.
How can I get from Southampton to London or Heathrow?
Most cruise lines will sell you a port transfer for anywhere from $50 to $100 per person. This is undoubtedly the easiest option—though you usually have to go to the London Victoria Coach Station to board the chartered bus. What they won't tell you is that you can usually get a private transfer—door to door from your hotel—for the same price or even less.
The easiest way to get to the Southampton cruise terminals is a private transfer direct to or from your hotel or Heathrow Airport. It costs roughly the same as the train and takes roughly the same amount of total time—yet you get door-to-door service without having to spend the time (and haul the luggage) to get between your hotel and the train station and then the station and the port (nor do you have to transfer to a taxi or shuttle).
BEST: Private transfer: 110–130 min; £38–£53
You can get a transfer from any downtown London hotel—or Heathrow Airport—and the Southampton cruise port. 
Since you are splitting the price of the full vehicle, the more people in your party the cheaper the per-person rate is, from as much as £53 ($76) per person for just a couple to as low as £38 ($54) per person if 8 are traveling together.
CHEAPEST: Bus: 140–145 min; £12–£20
National Express runs hourly coaches (buses) from London Victoria Coach Station to the Southampton Coach Station.
The ride takes 2 hours and 15 minutes and costs £7–£9.
(Be sure you go to the Victoria Coach Station, which is across the street from Victoria Rail Station.)
A taxi between the Southampton Coach Station and any of the ports only takes about 5–10 minutes, and should cost around £5–£11.
Train: 100–140 min; £40–£61
You can also get a half-hourly SouthWest train from London's Waterloo station straight to Southampton. 
The ride takes about 75–100 minutes and costs around £40.
(Yes, the time and cost totals in the heading above are higher than that, but that's because they also add in the time and expense to get a taxi or Tube between your hotel and Waterloo station.)
From Southampton Central train station, there is a free shuttle bus that stops near the Ocean Terminal, but it's still a 15 minute walk from there.
A taxi between the station and any of the ports is your best bet—it only takes about 5–10 minutes, and should cost around £5–£11.
Drive: 110–130 min
If you have a car, Southampton is a straight shot from London down the M3 off the M25.
Related
Also in Cruise to London:
Similar interests: