London Heathrow Airport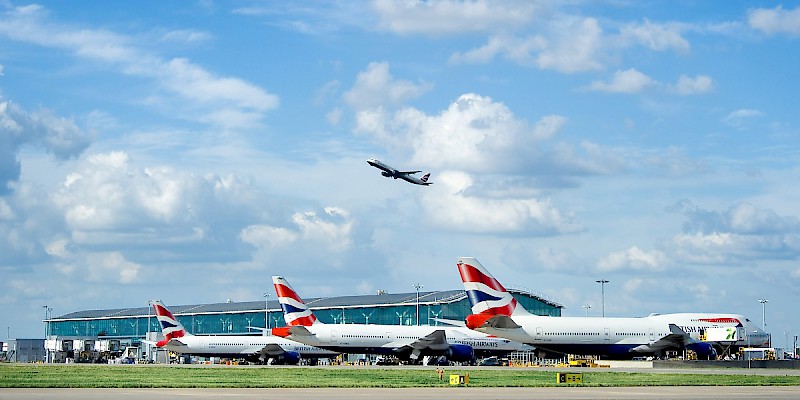 London's main airport, about 19 miles west of the city, is where most Transatlantic (and many other) flights land
Transatlantic flights—and many others—usually land at Heathrow Airport (airport code: LHR).
London's primary airport, Heathrow is located about 19 miles west of the city.
Heathrow is a major world hub, meaning it is busy and intensely crowded—especially first thing in the morning when all those overnight flights land.
It is also, given its sheer size and amount of traffic, slow.
Between the long corridors to walk, long waits at security and passport control—staffed by some of the most (politely) surly agents in the world)—the typical chaos of luggage claim, and all that, I have never gotten out of Heathrow in less than an hour. 
Plan accordingly.
How to get between London Heathrow Airport and central London
In summary: 
Full details and tips are below, but in brief:
By Heathrow Express train: £5.50–£27 ($8–$40); 15–21 min.
The Heathrow Express bullet train (Heathrowexpress.com) departs every 15 minutes and takes only 15 minutes make the journey between Heathrow Airport and London's Paddington Station, where you can transfer to the Tube (Circle, District, Bakerloo, or Hammersmith & City lines)
Note that the train has two stops at Heathrow: Terminals 2&3 (a joint stop) and Terminal 5 (6 min. farther along). To get to Terminal 4, get off at the Terminals 2&3 stop and take the free airport shuttle. 
Trains depart London Paddington for Heathrow hourly at the xx:10, xx:25, xx:40, and xx:55. The first departure is at 5:10am; the last at 11:25pm.
Trains depart Heathrow's Terminal 5 hourly Monday to Saturday at the xx:12, xx:27, xx:42, and xx:57, stopping at Terminals 2&3 six minutes later. (Sundays—for no apparent reason—the whole schedule is shifted ahead by 6 minutes.) The first two trains of the day are actually slightly off that formula: 5:07am and 5:27am; the final train is at 11:42pm. 
Heathrow Express tickets cost £22 if you buy it at a machine at the airport or online within two weeks of travel—or £27 if you wait to buy it on board the train itself.
However, those who plan ahead can save big: Buy a ticket online at least 14 days in advance and the price drops to £12.10 weekends, £16.50 weekdays; 30 days in advance it's £8.80 weekends, £14.30 weekdays; 90 days in advance it's £5.50 weekends, £12.10 weekdays. They will end your tickets via e-mail; print this out to take with you (or you can download an app).
Kids aged 15 and under travel free.
By Tube: £3–£5.70 ($4.40–$8.35); 40–55 min.
Heathrow is the only London airport to which you can take the Tube, a leisurely Underground ride on the Piccadilly line—figure on about 50 minutes between the airport at the central Piccadilly Circus stop (a bit less if you're getting off west of that; a bit more to the east).
Heathrow has three Tube stations—Terminals 2 & 3 (a short walk from either), Terminal 4, Terminal 5.
Though far slower than the Heathrow Express (above), the Piccadilly line does run right through the center of London with many stops, so it may more conveniently drop you off right near your hotel—which might actually be faster in the long run than taking the express train to Paddington Station then having to transfer to the Underground there.
If you are using the recommended Oyster Card, the fare is £3 between Heathrow and central London (or £5 if you happen to hit the peak travel times of 6:30–9:30am Mon–Fri). If you just buy a single, regular ticket, the fare is £5.70.
Note for those with a 7-day Travelcard: Heathrow airport is in Zone 6, so if you have a Zones 1&2 card, make sure there's a bit of extra cash on the Oyster Card to cover the Zone 6 supplement out to Heathrow.
By coach / bus: £6 ($8.80); 40–50 min.
National Express (Nationalexpress.com) runs an airport shuttle every half hour (on the hour and half-hour) from London's Victoria Coach Station to Heathrow Airport in 40–50 minutes. (Departures from Heathrow for London Victoria are 2–3 per hour on a staggered schedule.) 
The bus costs a flat £6.
By private car: £13–£36 ($19–$52); 35–55 min. 
The easiest way to book a private transfer is through Viator.com.
Note that the "private" transfers (with the lowest lead price) are per person but for the entire vehicle—so you'll only pay that lowest per-person rate if you stuff it with eight people. The per-person price goes up the fewer people you have in the car, so it only really makes sense if you have at least four people in your party (paying roughly £21/$31 a piece).
The better option for fewer than four people is to book one of the the "shared" transfers. You may have to make a few stops along the way at fellow passengers' hotels, but the per-person rate is capped at the much lower, £20/$30 per-person price. 
By taxi: £45–£85 ($64–$121); 35–55 min.
The priciest option is to grab a London taxi cab. However, if you have two or three people, it will be cheaper than a private car.
Getting to Heathrow in the middle of the night
If you have to travel to or from Heathrow between midnight and 5am, when most transit options are not available, a taxi is honestly your best bet.
However, penny-pinchers will rejoice to know that there is also a night bus—the N9—every 20 minutes between Heathrow and the Hyde Park Corner bus station (60 min.). It costs £3.10 on an Oyster Card, or £6 for a single fare ticket.
Heathrow airport transfers links
Tips
How do I get from Heathrow to another London airport?
Related
General tips of similar interest