The Churchill War Rooms
★★
☆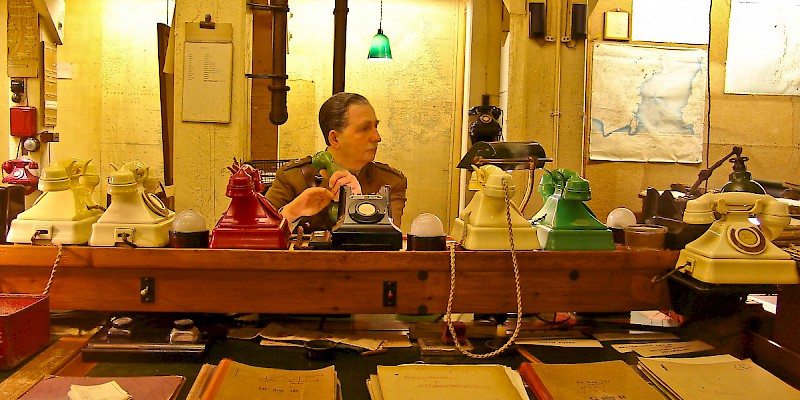 The Cabinet War Rooms and Churchill Museum in the underground bunker from which Britain waged World War II
A few years ago, they expanded this preserved warren of underground tunnels from which Churchill and his commanders ran the war to include an avant-garde museum devoted to Churchill's life, turning it from a fascinating third-tier London sight into one of my favorite little-known sights in the city—and this from someone who is not normally into military history.
(They also rebranded it from "Cabinet War Rooms" to "The Churchill War Rooms.")
You don't have to be an aficionado of war or battle strategy—or even much of a history buff—to get something out of this museum, and even the only-mildly-curious will find themselves drawn in.
First, the Cabinet War Rooms. These are the underground bunkers from which Churchill and the gang ran World War II. The rooms are set up just as they were in the heat of battle, with mannequins in uniform answering color-coded Bakelite phones, moving pins in the wall maps to keep track of advancing or retreating lines, and passing urgent messages over the radio.
Churchill's private office and bedroom suite are also preserved—he spent many a night down here, running the war from a bed tray.
Down a tunnel in a neighboring underground space is the Churchill Museum, a newer exhibit dedicated to the Prime Minster himself.
The fascinating state-of-the-art displays—many using spacial recognition technology to provide interactive elements (like a touch screen, only without the screen)—give an exhaustive survey of Churchill's life and times.
Intriguingly, the curators have pulled no punches, lumping in the bad with the good to give a holistic picture of the great man.
Churchill War Rooms Tours
Tips
How long do the Churchill War Rooms take?
Many decide to drop in for 45 minutes and end up staying two hours—and that inlcudes people who normally have zero interest in military history.