Green Park
☆☆☆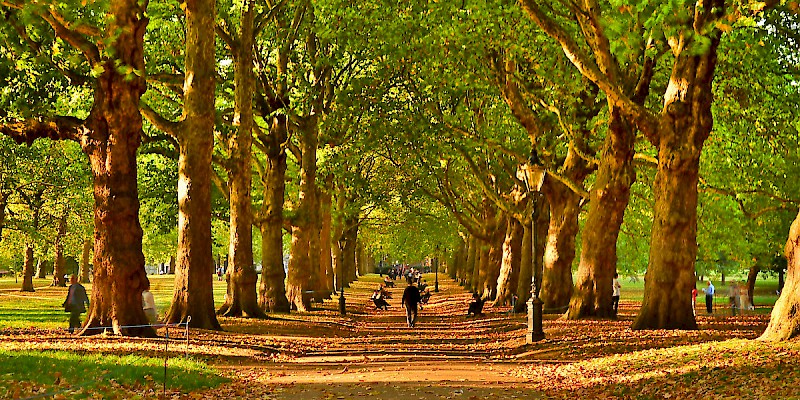 Tree-shaded grassy park by Buckingham Palace
Green Park is the name for the 40 acres of green lawns and tree-shaded pathways above Buckingham Palace, linking St. James's Park to the east with Hyde Park to the west.
It's a fairly uninspired name for a fairly uninspired park—but still a lovely place for a break, or just to kick through the autumn leaves on your way to Buckingham Palace.
Unlike most London parks, Green Park has no fountains or decorative lakes, and few monuments, but it is a place many visitors will cross and thank for the shade and the greenery and the relative peaceful respite from the bustle of big city London.
For being so close to Buckingham Palace, it has quite the anti-royal checkered history, where in 1554 Sir Thomas Wyatt rebelled against the marriage of Mary I to Philip II of Spain. Charles II closed it off as the "Upper St James's Park" royal hunting preserve in 1668.
Green Park was opened to the public in 1826, and in 1840 Edward Oxford attempted to assassinate a pregnant Queen Victoria on the adjacent Constitution Hill, home to the triumphal Wellington Arch (1826–30), gateway to Hyde Park Corner.
Tips
How long should I spend in Green Park?
It's a park! Spend as long as you need to relax and regroup for the sightseeing—through, really, this is more of a nice set of green pathways through which to stroll through Westminster rather than a park in which to play and relax.