National Maritime Museum
★
☆☆
See the coat in which Nelson was shot, bullet hole and all, along with some fantastically beautiful old astrolabes and an indescribably cool interactive display on the Battle of Trafalgar
The Maritime Museum in Greenwich is packed with interesting seafaring memorabilia of the glory days of the British Empire.
Among the highlights are the coat in which Nelson was shot, bullet hole and all (its in the upper left shoulder) and an indescribably cool interactive display on the Battle of Trafalgar (wave your hand over the computerized board to identify the various ships and follow the course of the battle).
There are also some cool old ship's figureheads, exhibits on oceanography and hydrodynamics, and some fantastically beautiful old astrolabes, interlocking gadgets of engraved discs and armatures that are works of art as much as they are of science.
National Maritime Museum Tours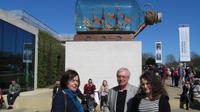 Enjoy a 3.5-hour small group guided walking tour around the world's largest maritime museum. Discover many of the different historical facts and artifacts such as Turner's monumental painting " Battle of Trafalgar " to the Nelson, Navy and Nation gallery and learn more about the fascinating maritime history of the UK.
Start your tour at the Ship in a Bottle statue which is located at the southern entrance ( IE. observatory side ) to the National Maritime Museum. See and experience Turner's magnificent painting of the Battle of Trafalgar which he painted in the early 1820's. From there you will continue on to the Nelson, Navy, Nation gallery where you will see the jacket that Nelson was wearing at the time he was mortally wounded on board HMS Victory.

Visit the Trade Gallery to learn more about trade with the Far East and its origins with the East India Company. Half way through the tour, you will have the opportunity to enjoy a coffee/tea break at the nice cafe located in the Museum.

Explore the Atlantic Slavery gallery which portrays a brutally honest history of the slave trade and England's role in that trade. Also discover more about lighthouses and their history in the UK.


(no rating)
Tours of Greenwich that might also include National Maritime Museum
These might include National Maritime Museum
More tours
Tips
How long should I spend at the National Maritime Museum?
Although worth popping into, the museum doesn't take all that long. Figure on about 45 minutes to an hour.
Free museum guidebook
Though admission is already free, if you happen to have a London Pass, don't forget to show it at the desk for get a copy of the museum's souvenir guidebook for free.