Church of St. Martin-in-the-Fields
★
☆☆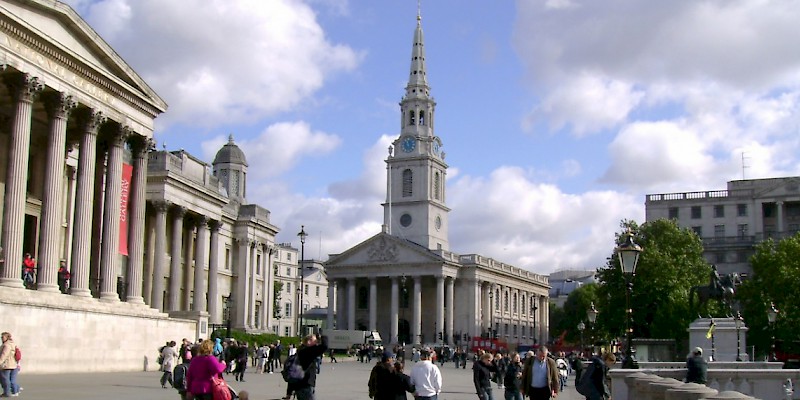 London's 18th century church steepling Trafalgar Square hosts excellent free lunchtime concerts with a cheap cafe in the crypt
This perfect little church anchoring the northeast corner of Trafalgar Square with its Neoclassical portico and grandly small spire is dedicated to St. Martin of Tours. It was rebuilt in 1722–26 by James Gibbs; Handel played the organ at its grand reopening.
I dig the fact that it is as famous for its charity work for the homeless as it is for being the local parish church for the Royal Family, that it housed London's first lending library and was the place where, in 1960, barrister Peter Benenson was inspired to create Amnesty International.
Also, it offers free lunchtime concerts (see below) and cheap, gourmet cafeteria fare eaten at tables atop tombstones in the Cafe in the Crypt (which also doubles as a jazz club).
How wonderfully eclectic.
As to the church's odd name, this area was, in fact, a field way back in 1222 when the first church was built here—though archeological evidence from a 2006 dig turned up graves from circa AD 410, suggesting that this might have been a Christian holy site as early as the late Roman era (and one possibly built atop an older, pagan temple, as was frequently the custom).
However, it was this 18th century version of St. Martin-in-the-Fields (wonderfully restored in 2006–07) that became part of the blueprint for the American colonial style—which may explain why the structure might look vaguely familiar to folks from the sorts of old towns in New England that still retain their church spires.
Among the notables buried here are the chemist and physicist Robert Boyle (of Boyle's Law, about the volume of gasses) and the actress Nell Gwyn, the Cinderella of the Restoration era, daughter of a brothel madam who rose to became chief mistress to Charles II.
Call ahead to book one of the free, hour-long tours, usually on Thursdays (sometimes Wednesday) at 11:30am.
Music at St. Martin-in-the-Fields
St. Martin's hosts a multitude of free lunchtime concerts—generally Classical and Baroque music by chamber orchestras or other arrangements, sometimes choral music. You can just walk in, sit in a pew, and listen. Donations are appreciated.
These usually run at 1pm on most days except Wednesdays (when a Choral Eucharist takes its place) and on weekends (show up at 1pm on a Sunday and you'll get mass in Mandarin instead). Note that the Thursday concert is one of Great Sacred Music accompanied by readings and reflections by a member of the clergy.
Many of these concerts are actually warm-up and practices for the official evening concerts (for which there is usually a small admission fee).
The Cafe in the Crypt (see below) also hosts weekly jazz concerts (typically Wednesdays at 8pm).
There's a spiffy cheap cafe in the crypt underneath the church, where the little metal tables balance atop a pavement of worn tombstones and they do jazz on Wednesday evenings. » more
The Brass Rubbing Centre
Next to the cafe in the crypt is a brass rubbing center where you can grab oversized metallic wax crayons, sheets of dark paper, and do rubbings over replicas of the low brass reliefs and incised stone figures copied from medieval tombs—armored knights and be-gowned ladies, St. George slaying his dragon, and so on.
This was a hugely popular pastime for Victorian visitors to old churches, but since the 1970s the activity—at least in big cities like London and at major churches—has been limited to replicas to save the originals from getting too damaged. (For those, like me, who fondly recall doing this in the Westminster Abbey cloisters as a child, this is where that brass rubbing center has since moved.)
Prices start at £4.50—though that basic level is also covered free by the London Pass—and go up depending on the size of the rubbing. It's a bit harder than it looks, especially if you get fancy and use different colors for different parts of the image, but makes for great souvenirs or gifts.
The brass rubbing is open Mon-Wed 10am–6pm, Thurs-Sat 10am–8pm, and Sun 11:30am–5pm.
Tips
How long should I spent at St. Martin-in-the-Fields?
It only takes about 10 minutes to wander through—though lunch in the crypt afterwards is tempting.
Lunchtime concerts are 30—45 minutes.
Services at St. Martin-in-the-Fields
The main service is Sunday at 10am, with a Choral Evensong at 5pm Sundays.
Wednesdays have Choral Eucharist at 1pm and a Choral Evensong at 4:30pm.
Thursdays has a 1pm concert of Great Sacred Music accompanied by readings and reflections by a member of the clergy.
Most weekdays, there is an 8:30am morning prayer (at 8am Thursdays) in the main church and a 6pm Evening Prayer in the Dick Sheppard Chapel of the sub-crypt (though not on Wednesdays).
Related
Related pages
Similar interests:
Artists & others: