St Pancras International Train Station
☆☆☆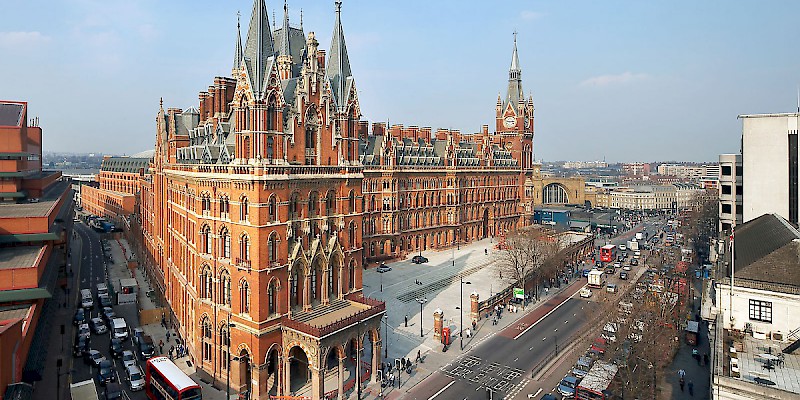 This redbrick Victorian castle is London's prettiest rail station—and home to the Eurostar to the Continent
George Gilbert Scott's massive pinnacled and redbrick Victorian mansion makes for a glorious if quirky entrance to the Industrial Age phenomenon of rail travel.
While purely Industrial—despite its neo-Gothic styling—the steel-and-glass train shed itself was an engineering marvel in its age, widest in the world when the station was built in the 1860s.
St Pancras managed to avoid being torn down in the 1960s thanks to crusading London fans of Victoriana, and its connected hotel (which operated as the Midland Grand Hotel from 1873 to 1935) reopened in 2011 as a luxe Marriott Renaissance property. » book  
Today, St Pancras is many overland traveler's first introduction to London, as home to the London terminus of the Eurostar, the Chunnel trains to Paris, Brussels, and the Continent beyond.
The station is also wedged between two literary sights:
One one side the most excellent (and under-visited) British Library; and on the other King's Cross station, fictional home to Platform 9-3/4, where Harry Potter caught the Hogwart's Express (wonderfully, some game bloke at the station has embedded a luggage cart halfway through a brick wall there.)
Why is it called St Pancras?
The original Saint Pancras was a 14-year-old Christian boy who was beheaded and martyred in AD 304 by Diocletian for refusing to renounce his faith. He has since been named the Patron Saint of Children.
Legend holds that the Norman-era church of St Pancras, just north of the station (and largely rebuilt in the 19th century), was founded around the same time, just across from a Roman encampment. This church's parish gave the entire neighborhood its name, and hence the train station as well when it was built in the 1860s—plus, the old St Pancras burial grounds were partly removed to a new cemetery to make room for the train station and its railshed and rail lines.
Incidentally, for the 11-year-old version of me who for years confused two words and called the station something hilarious: "Pancras" is Greek for "one who holds everything," which means it does share some of its root meaning with that Latinized Greek word for our digestive gland, "pancreas," which means "all flesh."
Tips
How long should I spend at St Pancras?
Related pages
Similar interests: