The Saga of the Routemasters
★★
☆
The history and rebirth of London's famous double-decker buses
They were as British as Big Ben, fish-n-chips, and Monty Python, a double-decker icon of the London streets since 1954: The red Routemaster bus, with a conductor and open platform at the back that gave us a chance for a bit of daily daredevilry, jumping on and off a moving bus.
(This gave my parents heart attacks when I did it as a kid.)
The demise of the Routemaster
Starting in 2003, the few remaining models of these genteel throwbacks with their stylishly rounded edges began to trundle off the roads.
Transport for London originally replaced the beloved old buses with a combination of those more modern, more dull blocky versions of a double decker (with no open platform at the back) plus a fleet of double-long Mercedes-built "bendy buses," which everybody hated and which sometimes caught fire.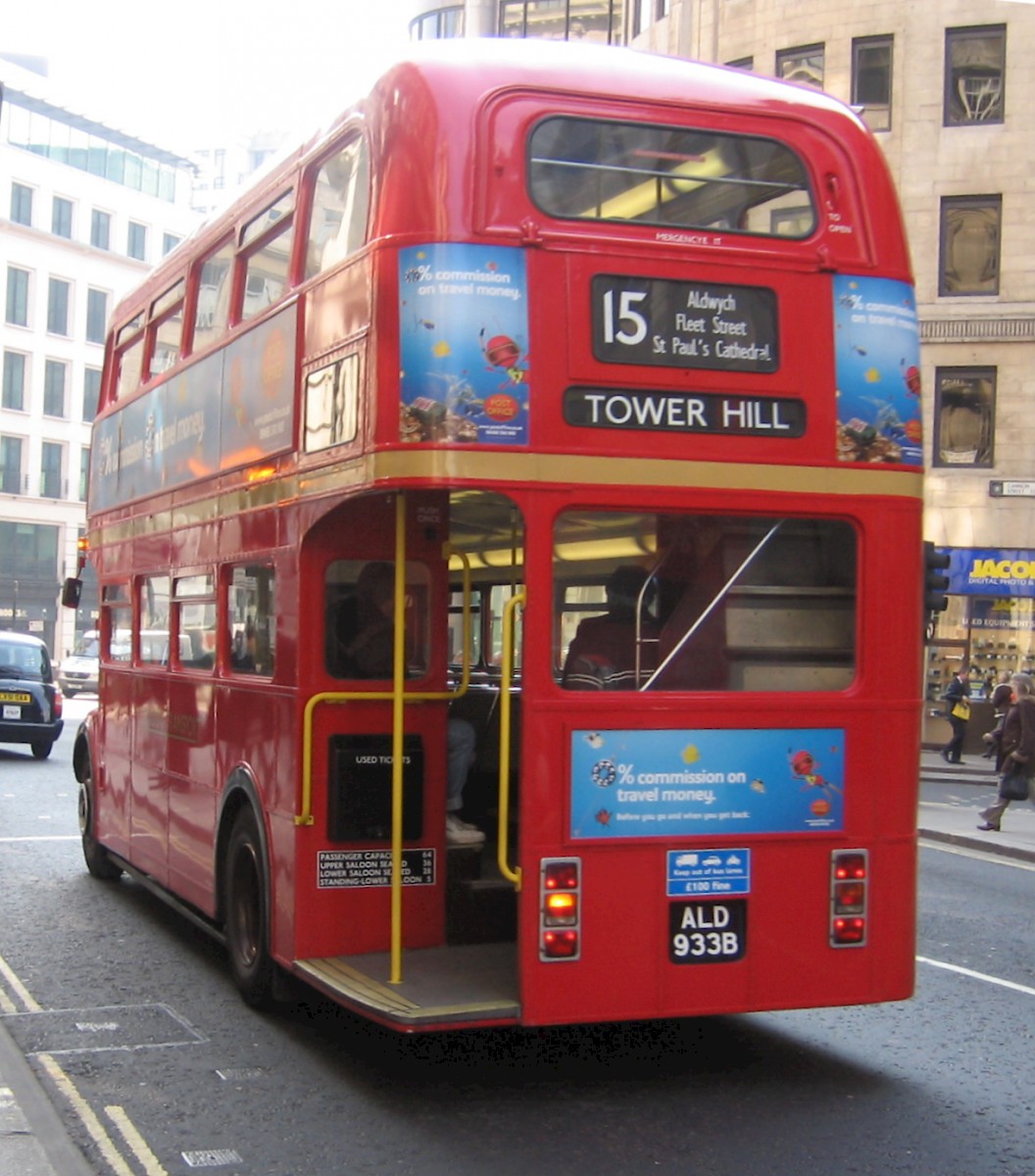 Transport for London's official reasons for removing the old Routemasters was that they didn't meet modern accessibility requirements for wheelchairs (true) and were just too old and costly to maintain.
But Ben Brooks of the Save the Routemaster campaign pointed out that the Routemasters had already been retrofitted with pollution controls. "They've been going for 50 years—just a little bit longer than the Queen. We're not getting rid of her, now are we?"
In 2005, they did reinstitute a few classic Routemasters to ply a single public bus route (used to be two)—or rather, a shortened "Heritage Route" version of that routes. It works just like regular buses (though are run by private concessionaires):
Route 15H: Trafalgar Square–Charing Cross–Aldwych–City Thameslink–St Paul's Churchyard–Mansion House–Cannon Street–Tower Hill
The Routemaster is dead! Long Live the Routemaster II!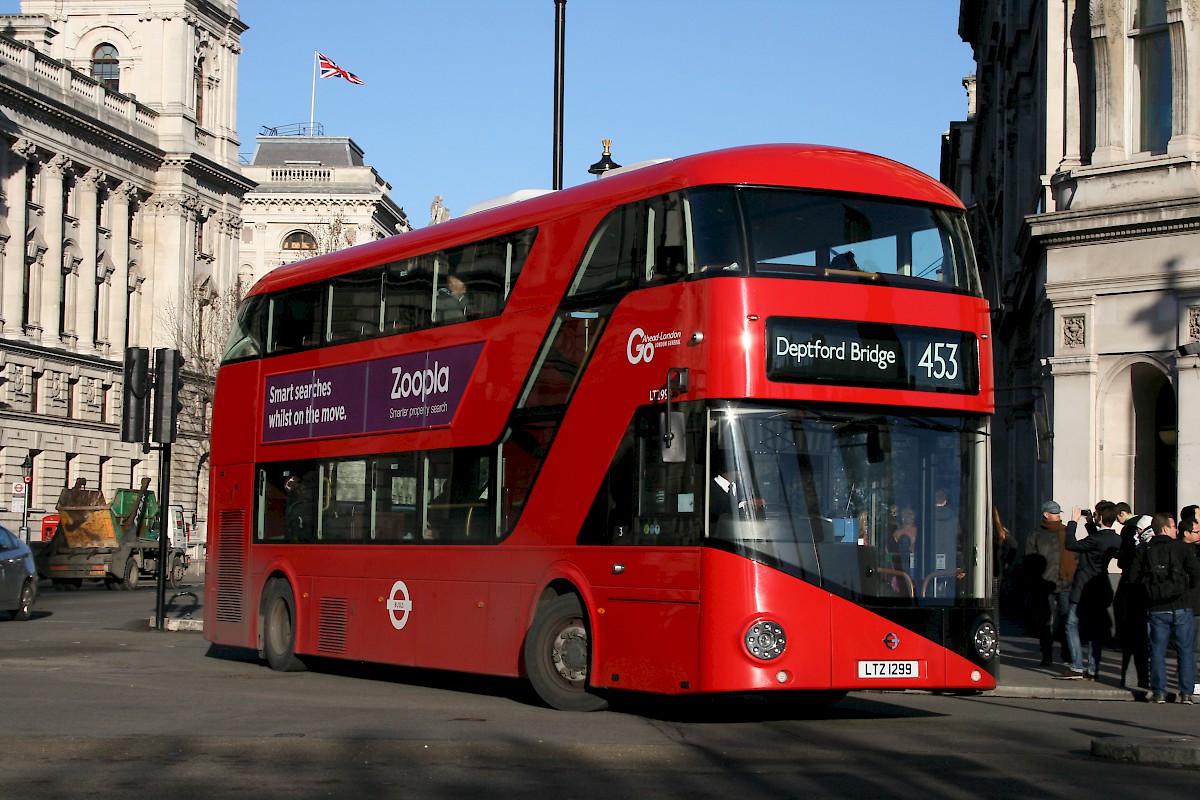 A decade after the original Routemasters went the way of Checker Cabs, London's, er, colorful mayor Boris Johnson—in one of his patented populist moves—introduced what many dubbed the "Routemaster II."
These New Routemaster double-deckers are a luxe, space age-looking version of the old curvaceous Routemasters complete with the return of the much-debated open platform at the back for hopping on and off (there are also regular doors at the front and middle).
Bright red and laced with wide strips of window that wrap around the edges and angle up to follow the interior staircases (in the process also serving as racy, jetsetter stripes), the New Buses are even more curvy than the old Routemasters—downright bulbous even. Supposedly this is to cut down on weight, but it probably has as much to do with style. I dunno. From the front, it kind of looks like half a red motorcycle helmet barelling down the road.
The New Bus has a diesel-electric hybrid engine, making it far more fuel efficient and enviro-friendly, and is 3m longer than any existing double-decker, which has lead to a few trying times at tight corners, but the system seems to be getting ironed out.
There are not many of them as yet (though 800 are promised by 2017). You can see a list at the page on riding double-decker buses.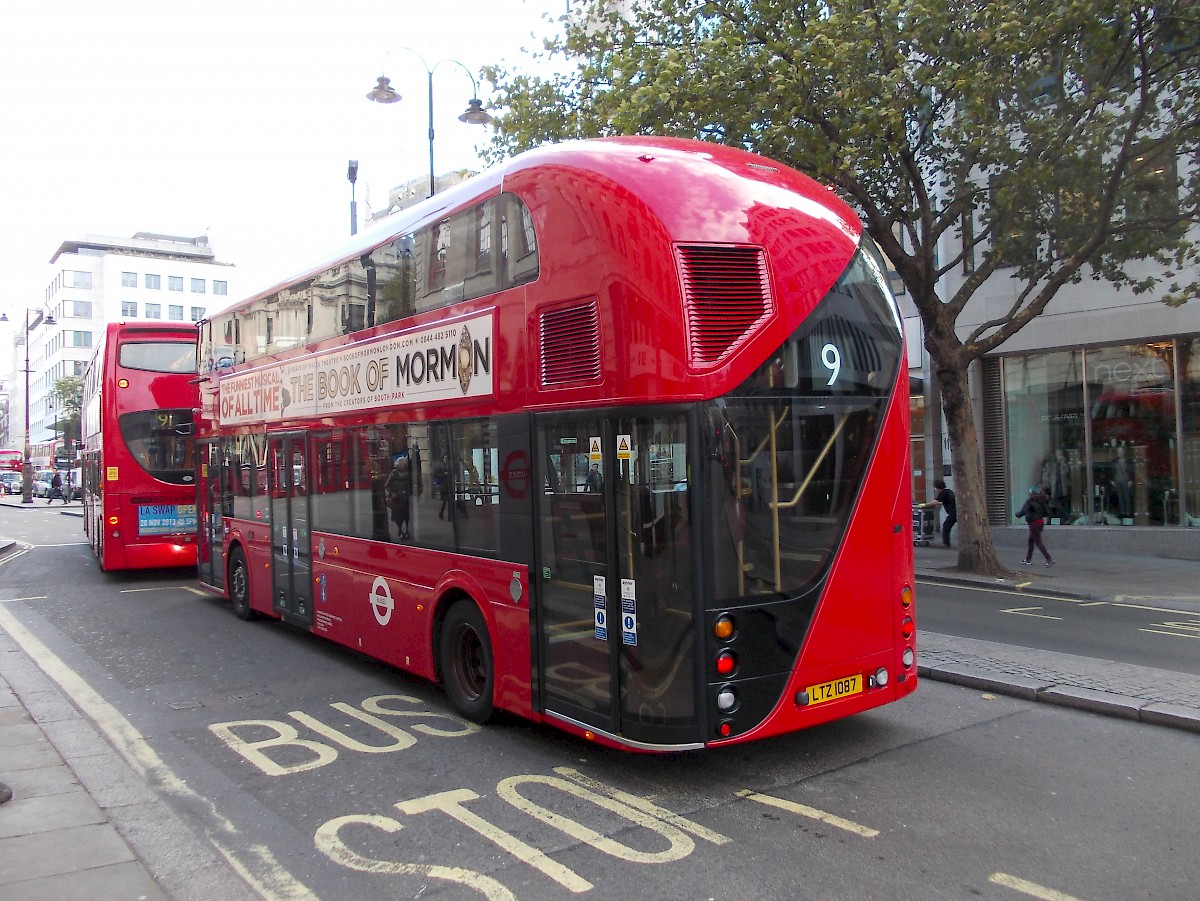 The new Routemaster is a modern bus, so you can use your Oyster Card at the little scanners just inside each door.
If you happen to have a Day Travelcard or paper ticket, board at the front to flash this to the driver.
By the way, the open back platform on the New Bus is only available during the day, when there is a conductor on board to assist back there. It's closed behind perspex at night, though the driver can open it, as he does the other doors, after he comes to a stop.
So in the end, a modern echo of the old Routemasters is back, and most of London is glad... political leanings notwithstanding.
Politics rides the bus
You see, part of why Mayor Boris Johnson introduced the new bus was in to tweak the political nose of his arch-rival, former mayor Ken Livingston, in the run-up to the 2012 mayoral elections.
Livingston oversaw the demise of the Routemasters—and keeps trying to get his old job back, so far losing to Boris in 2008 and again 2012.
In fact, the whole Routemaster saga has turned into a political proxy fight. Those who favor Conservative Boris love the New Buses; those who champion far-left Labour leader Ken deride the new rides as overpriced, boondoggle "Boris Buses" and hate them.
(I have no official word on how the new mayor as of 2016, Sadiq Khan, feels about buses of any type.)
Ah, polictics, is there nothing in life you can't spoil?
Public transit links
Tfl.gov.uk - Covers pretty much all London transportation, including the Tube and buses but also taxis, the DLR and other local light rail systems, trams, the London bike share program, and other one-off transport options.
Nationalrail.co.uk - Covers all of the lines once operated by the (since-privitized) old British Rail. This includes most major British railways, but notably does not cover many urban area light rail systems (such as London, Glasgow, Manchester, Blackpool, Sheffield, and Midland Metro), nor does it cover the Eurostar, Heathrow Express, nor a handful of heritage or privately owned railways. Still, it's the closest thing to one-stop shopping for finding train connections across the mainland U.K. (though not Northern Ireland).
Related
More on Bus or coach in London
Planning for a trip to England