Day Tours

Sights in England

How to get expert guides and speciality tours while still having a D.I.Y. vacation

Experiences in England

Microtours in the U.K.—Guided walks, bus tours, museum tours, private guides, escorted sidetrips, and more

Weird, random, oddball, and just plain fun tours and activities you can sign up for in the U.K.

Planning for a trip to England

Vacation blueprints for your trip to the U.K. so so you can get the most out of your trip, no matter where you want to go and how much time you have to see the best of Britain

Tour England, Scotland, or Wales in a saddle

Book your own cruise excursions for up to 40% less than the cruise ships charge

Day Tours Tours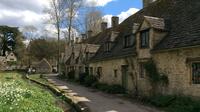 The Cotswolds is a designated Area of Outstanding Natural Beauty which has inspired artists, writers and philosophers for many centuries.  Come and discover idyllic English villages, nestling in quiet valleys, small stone thatched cottages, majestic castles and manors, and charming high streets peppered with quaint tea shops and antiques shops.  Let us take you on an unforgettable adventure through the stunning scenery, combining the best of the North and South Cotswolds.
This Cotswold Tour introduces visitors to some of the most enchanting villages of the South and North Cotswolds, starting with a drive to the ancient market town of Bampton, one of the oldest towns in England and now well known as the village of Downton in the popular TV series Downton Abbey.  We continue via Kelmscott, the home of the Arts and Crafts founder, William Morris, to Lechlade on the River Thames.  From there, our journey takes us through some pretty Cotswold stone villages to idyllic Bibury, with its 16th century cottages and trout farm.  Heading up the Coln Valley we travel through a succession of stone hamlets, hidden valleys and breath-taking scenery, arriving in the beautiful town of Winchcombe for lunch.  Enjoy lunch in a rustic pub or restaurant or take the time to visit Sudeley Castle, the burial place of Catherine Parr, the 6th wife of Henry VIII.  Our Cotswold Adventure continues through more stunning countryside to Stow-on-the-Wold, the highest town in the Cotswolds, with its charming cafes and antiques shops.  We return to Oxford via the quaint village of Cornwell and the bustling market town of Chipping Norton, passing finally through Woodstock, the site of Blenheim Palace (the birthplace of Sir Winston Churchill).

(no rating)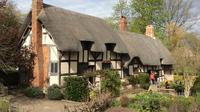 A unique opportunity to combine a tour of the Cotswolds with a visit to Shakespeare's home, Stratford-upon-Avon, with its famous theatres and quaint medieval timber-framed houses. Come and discover idyllic stone villages, nestling in quiet valleys, small thatched cottages, majestic castles and manors, and charming high streets peppered with quaint tea shops and antiques shops. Let us help you to enjoy the English countryside at its best.
Our Cotswolds and Shakespeare Tour combines the beauty of Shakespeare's Stratford-upon-Avon with a drive through some of the breathtaking scenery of the North Cotswolds. We leave Oxford and head north through "the Tews", a group of delightful ironstone villages. We pass the site of English Civil War Battle of Edgehill and several stately homes, including the beautiful Elizabethan Charlecote Park, before arriving in Stratford-upon-Avon. Our short guided walk of Shakespeare's home town will take you past charming timber-framed houses, the Shakespeare theatres and the River Avon, finishing with an optional visit of Shakespeare's Birthplace. After lunch, we leave Stratford, passing by Anne Hathaway's cottage and head into the Cotswolds. A delightful cross-country route takes us through the village of Ilmington and past the famous Kiftsgate Court and Hidcote Manor Gardens, to our next stop in Chipping Campden – the centre of the Arts and Crafts Movement in the Cotswolds. Here, you can browse in the quaint shops or visit the impressive 'wool church' and ruined manor house. We return to oxford, following another scenic route through the stone villages of Broad Campden and Blockley. We stop in the busy market town of Moreton-in-Marsh, with its art galleries and antiques shops and then continue on to Oxford via Chipping Norton and Woodstock the site of Blenheim Palace (birthplace of Sir Winston Churchill).

(no rating)
These might include day tours
More tours