Magdalen College
★
☆☆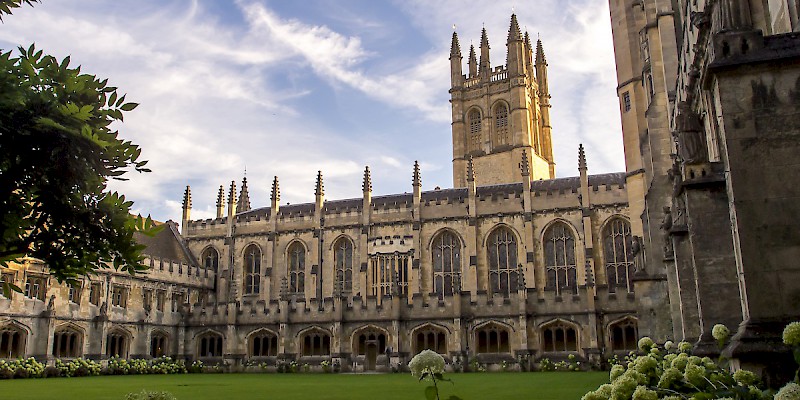 A gorgeous 15C campus by the waters of the Cherwell River
Perhaps the prettiest Oxford campus, Magdalen College is a 15th-century gem surrounded by a park overlooking the Cherwell River, its square, pinnacled Great Tower (built 1492–1509) dominating the Oxford skyline.
The college was started in 1458, built around a core of buildings that once belonged to the Hospital of St. John.
The parts of the college that are usually open to the public include the medieval Hall, where students take their meals, the Old Kitchen Bar, where visitors can eat (it's the oldest part of the college, converted form a 14C kitchen), and the Chapel, home to a famous men's and boy's choir that has existed since the college's founding.
Also don/t miss a stroll along Addison's Walk, the lovely, tree-lined pathway through the Water Meadows, a triangular parkland just east of the college surrounded on all three sides by branches of the Cherwell River.
Famous Madgalen alumni
Magdalen has matriculated the likes of historian Edward Gibbon (The Decline and Fall the the Roman Empire), adventurer and soldier T. E. Lawrence of Arabia, and Cardinal Thomas Wolsey, Lord Chancellor to King Henry VIII. 
Writers C.S. Lewis, Oscar Wilde, and Julian Barnes all studied here, as did actor Dudley Moore (who studied music here on an organ scholarship) and director Terrence Malick.
Magdalen College has been the school of kings (Edward VIII of England, Jigme Wangchuck of Bhutan) and prime ministers (Malcolm Fraser of Australia and John Turner of Canada).
Magdalen was the Oxford college where many Nobel laureates first studied their trade, including Lord Professor Howard Florey (who helped discover penicillin), poet Seamus Heaney, and Dr. Erwin Schrödinger (who won for atomic theory, not for sealing theoretical cats in boxes).
Several notable Americans also studied here, including the future Supreme Court Justices Stephen Breyer and David Souter, plus General Wesley Clark.
Also in The colleges:
Related pages
Similar interests: