Books in London
Books Tours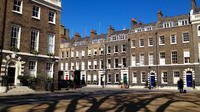 In this walking tour we will explore the beautiful world-famous squares of Bloomsbury.  With its unmatched heritage of writers and big names in the London literary world from Charles Dickens to Virginia Woolf and its quiet cultural atmosphere that still resonates to today, you might be inspired to write a best-seller yourself.
This private walking tour takes you on an interesting 2.5 hour walk around the Bloomsbury district of London. What Montmartre in Paris is to the world of art then so is Bloomsbury to the world of literature. Bloomsbury was the center of the English-speaking literary world in the 19th and 20th centuries and to a degree still is.  The beautiful squares and quiet neighborhoods created a special community where writers from around the world would come to live and write in a creative atmosphere.

On this tour you will visit the homes of a number of world-renowned writers, see the largely unchanged neighborhoods that they lived in and which helped form some of the greatest works of literature of all time. Just some of the places you will visit include the Pre-Raphaelite Brotherhood, Charles Darwin and the Suffragette Millicent Garrett Fawcett. You'll see the building that inspired George Orwell and his Ministry of Truth in 1984. Learn about the tragic life of Virginia Woolf, a prominent member of the Bloomsbury Group and the location of where Sir Arthur Conan Doyle invented the famous sleuth Sherlock Holmes and why he never liked his famous detective.
Such luminaries as Gertrude Stein, Aleister Crowley, Charles Dickens, Oscar Wilde and WB Yeats round off the tour, not forgetting J M Barrie whose wonderful story of Peter Pan continues to help a world-famous children's hospital in London to this day.
(no rating)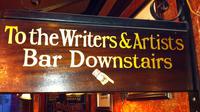 Discover the public houses of Soho and Fitzrovia, and learn of the writers and artists they inspired on this 2.5-hour literary pub crawl and tavern tour in London. Follow a guide (and occasionally, Charles Dickens!) through the City of London, and take in sites visited by 19th- and 20th-century authors and poets such as Karl Marx, George Orwell, Anthony Burgess, Dylan Thomas, and Virginia Woolf. Find exclusive private members clubs and explore corners of the capital where contemporary artists like Paul McCartney and Damien Hirst found fuel for their art. Then, finish your tour in a historic Soho pub.
Meet your guide in Fitzrovia in the afternoon, then start your tour with a traditional British pub quiz. Test your knowledge of Britain's literary scene, then head onward through the City of London to further your knowledge.

During your tour, sample a selection of British beers (own expense) and meet a lifelike incarnation of Charles Dickens to hear what he has to say! Visit sites frequented by great 19th- and 20th-century poets and writers including Brendan Behan, Anthony Burgess, Karl Marx, George Orwell, Dylan Thomas, and Virginia Woolf.

Watch re-enactments of key moments in Britain's literary history — such as the moment Dylan Thomas met his future wife Caitlin — and hear of the incidents and mishaps that shaped some of British literature's most famous works.

Discover some of the places that have inspired more modern songwriters and artists like Paul McCartney and Damien Hirst, and enjoy book and poetry readings along the way. Afterward, finish your walking tour at The Coach and Horses pub in Soho, central London.
These might include books
More tours
Related pages