Modern Art
Modern Art Tours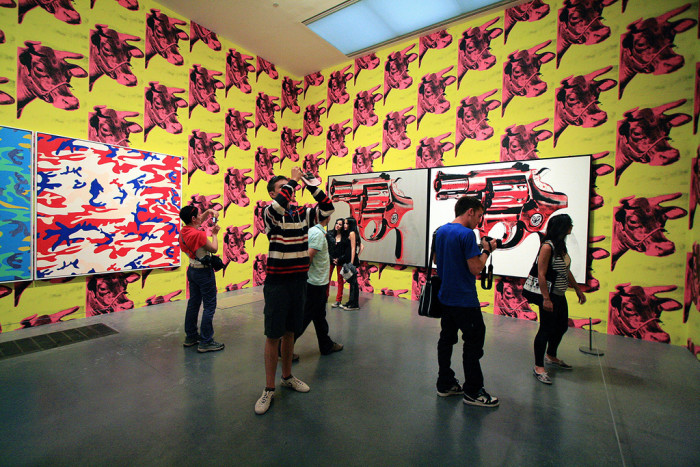 The Tate Modern is one of the best modern art museums in the world, also featuring some of the world's most innovative contemporary art exhibitions. Our Tate Modern Tour, led by an art historian or curator, is a rich, immersive experience for anyone looking to track the development of art throughout the modern age, from its origins in the early 20th centuries, through surrealism, postmodernism, and up to today.
Traces the development of modern art, featuring artists like Matisse, Magritte, Miró, Warhol, Beuys, and Judd
Led by an art historian or artist
Group tours are capped at 6 people
Tate Modern Tour
We will begin by discussing the history of Tate Modern, particularly the conversion and opening of the gallery in a disused power station in 2000. We will also look into the history of the area, Southwark, and its historical associations with entertainment and industry. Once inside, we will spend some time in the Turbine Hall, which usually features a current installation, before moving into the permanent collection. As we move around the gallery, we will discuss Tate Modern's ground-breaking hang, which challenges the convention of displaying art chronologically and is instead organized around four wings, each of which is centered on a seminal artistic moment of the twentieth century.
A Thematic Approach
As we work our way through twentieth-century art we will discuss why certain styles and movements proliferated at this time and examine different artists and works in relation to not only the artistic tradition but also the socio-political climate of the period. We will begin with early challenges to traditional modes of painting, focusing on Cubism, which was pioneered by Picasso and Braque and which questioned the way in which we perceive things, alongside the works of the colorist Henri Matisse, who wanted his art to have the effect of a good armchair on a tired businessman. Tate Modern has one of the finest Surrealist collections in the world; in relation to works by Dali, Magritte, and Miro, we will discuss the beginnings of the movement in the 1920s, its attempts to produce an art of the unconscious, and its ability to question our ideas about reality. Giacometti's sculptures of slender figures will begin an inquiry into how the trauma of World War I and World War II affected modes of representing the human figure as well as the relationship between art and humanity.
Want to see another seminal London museum? Try our National Gallery Tour.
This Is Not a Pipe
We will also look at Marcel Duchamp's radical use of unconventional materials and ready-made objects in the early 1900s and his influence on mid-twentieth century artists such as Andy Warhol, who represents pop art and how it challenged consumer culture; Joseph Beuys, who represents conceptual art and its emphasis of idea over object; and Donald Judd, who represents minimalism and its strongly abstracted works using modern, industrial materials. Last but not least, we will examine works by contemporary practitioners, considering not only their context, but also their place in the trajectory of twentieth-century art.
Take Aways
At the end of our time together we will have a deeper understanding of 20th century art and the work of several practicing contemporary artists. This walk perfectly compliments our Thames River Tour, which takes us down the banks of the River Thames towards Tate Modern.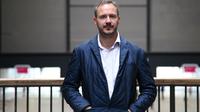 London's Tate Modern and Tate Britain hold some of the country's pre-eminent collections of historic and contemporary art. Visiting both museums via a boat ride along the Thames is a chance to see how ideas and artistic processes flow through time. By selecting works shown in the galleries' permanent collections, Joshua will chart the evolution of different art movements and media. 
A writer and lecturer at Sotheby's, Christie's, specialising in modern and contemporary art, Joshua also freelances as a lecturer in art for the Tate museums and the National Portrait Gallery. Growing up in London, he has witnessed first-hand the city's emergence as a centre of the global contemporary art scene.
A frequent contributor to Flash Art magazine and co-presenter of The Art Channel, your guide always has the inside track on what to see – one of the many reasons we enjoy gallery-hopping with him and getting his expert take on London's emerging artists and must-see exhibitions.

When your booking is confirmed, you will receive comprehensive details about your experience, including Joshua's contact details and the meeting location. You will also receive a pre-experience questionnaire, which is essential for Joshua to be able to tailor your tour to your interests. 

You will meet Joshua at the Tate Modern, where he will select works out of the permanent collections to illustrate how artistic creation has evolved in style and medium. Then, taking to the Thames by boat, you will go on to Tate Britain, where Joshua will identify early British works that continue to inspire artists today. He'll give his insight into the connections between diverse styles, from self-expressive painting to conceptual works inspired by mathematics.

The whole tour lasts around three hours, and includes some light refreshments.
(no rating)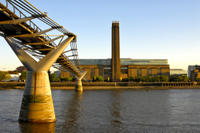 Tate Britain, where your tour starts, contains the main collection of British Art from the 16c. to the present day. It is a splendid 19c. home for the British collection. Updated recently it has all modern facilities and is endowed with some beautiful space for large sculpture in the Duveen Galleries. In the Clore Galleries you will find a continuous but frequently changing display of paintings by Turner, from the bequest he made to the Nation of over 300 works. They are a must for all lovers of this great artist.
A boat trip down the Thames links the two Tates and provides a wonderful panorama of London from the Houses of Parliament and Big Ben to St. Paul's and the City of London. You alight on the South Bank for the Tate Modern, the famous conversion of the Bankside Power Station (1957-60) which took place during the 1990's to house the 20 C. collection of Modern and Contemporary Art. Apart from the exciting modern collection of paintings, sculptures, and objects, it enjoys from the top floor splendid views over the Thames towards St. Paul's, to which it has been linked by the Millennium pedestrian bridge by Norman Foster. It also contains an imposing collection of modern European masterpieces from the beginning of the 20 C with great works by the Italian futurists like Boccioni or metaphysical painters like De Chirico, French masterpieces in sculpture and paintings like Degas' Dancers, Matisse, Picasso and an impressive collection of American Abstract Expressionists.
This in-depth private tour is hosted by a professional guide specializing in art history. Please list any special interests you have (art, architecture, history, culture) at time of booking to alert our guide, so that he or she can better prepare for your private tour.
These might include modern art
More tours
Related pages