Find the best car rental rates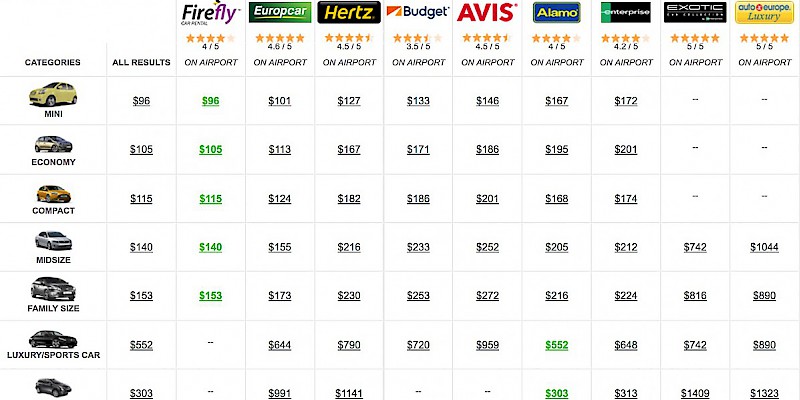 How to find the lowest rates on a rental car in the U.K.
A rental car grants you the freedom to go wherever you want, whenever you want, turning up a dirt road to visit an ancient stone circle or down a back alley to explore a medieval town.
OK, so cars do have one big drawback: they are pretty expensive, especially when compared to riding the rails. I don't mean just the rental cost.
Gasoline in the U.K. costs two to three times what it does in the U.S. No joke. That's part of why they drive so many of those teensy, fuel-efficient, little Matchbox cars over there, and why they're still churning out diesel-powered sedans and wagons.
And let's not forget parking garages in cities that cost $20 to $50 a night. High daily rates, mandatory insurance, obscure vehicle drop-off fees. Yep, renting a car on vacation can be a pretty costly proposition.
I'm here to help.
Where to find the best rates 
Use an aggregator to determine a base fare. Research the going retail rates at various major rental outfits, booking sites, discounters, and travel agencies by using a meta–search engine called an aggregator. Then see if you can beat them with a consolidator (next step).
See if a consolidator can beat those prices. Auto Europe (www.autoeurope.com) offers consistently lower prices than the Big Five. Auto Europe actually works a bit like an airfare consolidator, so you still pick up the car at some local European office of, say, Avis or Europcar...you just end up paying less for it. This is almost always my first choice when I need to rent, and since they now do leases as well, it's the best one-stop-price-shopping for the best option.
You can always try the major agencies - I rarely find the best prices by going directly to the big rental agencies (Hertz, Avis, Budget, Europcar), but occasionally there will be some special sale or promotion that will bring the rates being charges by the majors down to the discounted prices you'll find at the companies listed above. The easiest way to compare prices quickly at all of them is to go through a search engine: Orbitz.com, Priceline.com.
Shave down the costs
Be flexible. Sometimes if you pick up the car Thursday instead of Friday or at the downtown office rather than the airport, or keep it over the weekend, you'll save big bucks. When you give the rental firm your dates for pick up and delivery, let them know you're open to other dates as well if it means saving money. Trade down a few models; do you really near the Ferrari convertible, or can you make do with a Fiat Punto? Even try different pick-up/drop-off cities—you never know. Also, for complicated reasons, it's sometimes cheaper to rent for a full week rather than two days.
Stick shift is cheaper than automatic. A stick shift car can be up to 40% cheaper than an automatic shift. On the UK's many narrow, windy, hilly roads and tight streets in medieval cities, manual shifts give you better control as well.
Airport pick-ups are almost always more expensive than downtown. The downside to picking up downtown, however, is that you have to navigate city traffic to get out of town, whereas airports tend to be on a major highway at the edge of the city.
Share the love, cut the costs. Renting is a particularly expensive proposition for the solo traveler, who has to shoulder the entire cost himself. For families or small groups, however, the fact that there's just one lump fee actually works in your favor, as the amount is spread across each person's costs. Sometimes the magic number of total passengers is three, sometimes four, but at some point renting a car becomes cheaper than buying three or four separate train tickets.

Still, even if it's just one or two of you and therefore renting is going to take a big bite out of your budget, there can be situations in which renting a car is worth the expense. The truer Britain lies in the small towns, not the big cities. Don't short-change your experience by short-changing your budget.