Should I rent a car in England?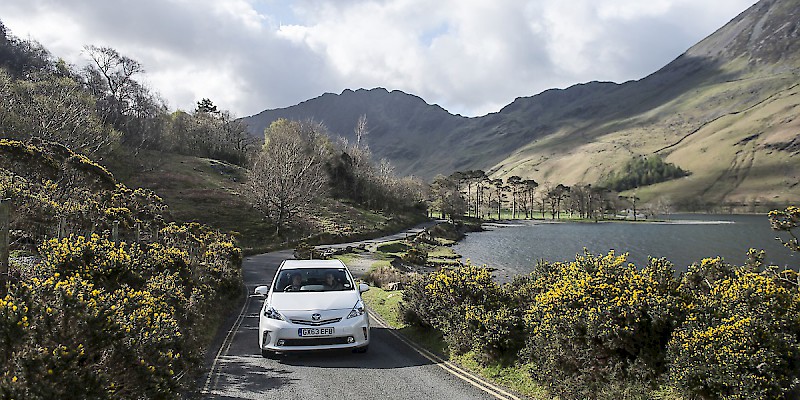 How to decide if a rental car is the best choice for your U.K. vacation
Is a car right for you? Would using the train system be better? That varies trip to trip and depends on what you want to accomplish on yours.
If you want to cover lots of ground, concentrate on the cities, or are going it solo, nine times out of ten I'd say take the train or a train/no-frill airline combo. 
If you're exploring just a small region, plan to hit lots of small towns, and are in a party of three or more, then rent a car (in general, three people splitting one car rental is cheaper than buying three train tickets).
The best trips mix and match transportation a bit. For example, spend a few days in London, then take the train to Bath, spend two days there, then pick up a rental car to spend a few days driving through the Salisbury Plain and the Cotswolds, then drop the car off in Oxford (or wherever) to continue your journey. This is why rail-and-drive passes can make a lot of sense.
If you see just the major cities, you're missing out on a big part of what makes the U.K. so wonderful, and I heartily recommend breaking up the metropolis itinerary with some jaunts through the countryside to smaller towns. It'll add spice and variety to your trip.
The upsides to renting a car in the U.K.
The main argument for plunking down a big chunk of your vacation budget on an auto rental is that glorious freedom to spread out a map, cross-reference the little towns on it to your guidebook—or just to your whims—and then turn left down any road that catches your fancy.
Driving is by far the best, and often the only reasonable, way to discover small villages, tour scenic districts, visit stately manors, and explore crumbling countryside castles.
With a car, you can be your own travel boss and get away from the tyranny of train schedules, which defines the structure of the traditional tourist trail. Renting a car is really the only reasonable option if you want to explore any small region in depth.
The beaten path in Britain is lined with railroad tracks and plied by intercity coaches and air-conditioned tour buses. If you want top get off it, you'll need your own wheels (or a heck of a lot of time and either a bike or sturdy walking shoes.)
Of course, with a car comes hassles.
You'll have to deal with aggressive drivers, navigate roundabouts and nerve-racking and confusing city traffic where the system of one-ways and seem to follow some arcane and indecipherable set of rules while the other drivers seem to follow none, find and then pay (often through the nose) for parking whenever you stop, and—of course—constantly remember to drive on the left.
If you're always behind the wheel of an automobile, you aren't free to relax and do research on the trip between towns (as you would on a train, bus, or plane), and the gas prices will downright curl your toenails, often running three times as much as in the States.
Still, unless you do walk or bike through Britain, there's no way to get closer to the land, its people, and its small towns devoid of other tourists and have the true freedom to go where your travel dreams take you than to rent a car.