Airfare aggregators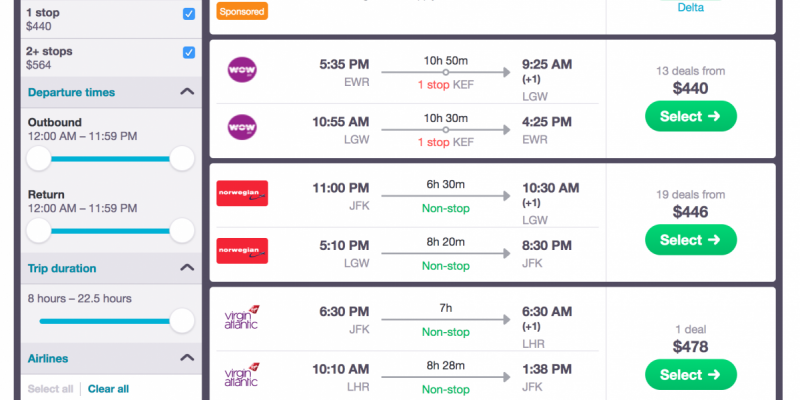 Aggregators search all the booking engines, airline sites, travel agencies, and airfare discounters in the blink of an eye
Let me be blunt. If I could check only one kind of website before booking an airfare, it would be an aggregator. 
I could quite happily then proceed to book my plane tickets knowing that there is only the smallest chance a better fare is out there. (Well, OK, I would want a chance to check the consolidators as well first.)
When looking into buying plane tickets on the Internet, you probably do what most people do: check one or more of the famous search engines and booking sites—Orbitz
, Expedia
, Travelocity (though you should know: Expedia actually owns all three now)
—then pick the best price you can find and book the tickets.
Congratulations. Chances are pretty strong that you just overpaid for your airfare.
While the three famous Expedia-owned booking engines often do offer decent fares—occasionally even the best available—there are many other booking engines (both smaller ones and foreign ones that aren't as well marketed to the U.S. audience)—not to mention many consolidators (wholesalers), airfare discounters, and online travel agencies, all of which might very well have even lower fares.
So how do you search not only Orbitz
, Expedia
, and Travelocity
 but also all of those other sites as well?
You use a kind of automated personal shopper called an aggregator.
Enter the aggregators
Price aggregators—also known as "meta–search engines," since they search the search engines for you—are a different breed of web critter. These Web sites are looking to preempt all the big booking engines by batch-searching most of the airfare sales sites for you, directly and all at once (well, it might take 10 or 20 seconds).
Most aggregators will run your itinerary through dozens upon dozens of cheap fare sites, individual airline Web sites (not just the major airlines, but smaller carriers and low-cost airlines ones as well), discounters, consolidators, and traditional travel agencies and come up with their answers.
This saves you the hassle of opening up a dozen browser windows and keep clicking back and forth through them all, sifting for the best prices.
In other words, aggregators will tell you know only the going rates at the Big Three, but also survey the majority of all the other prices available out there.
Meet the Airfare Aggregators
The pros and cons of the best airfare aggregators are all detailed in the "Airfare Links" section below:
Handy air travel tips links
Tips
Do due diligence on the results
These aggregators are canvassing dozens of smaller OTAs and booking services, and you may not be familiar or comfortable with the agency that claims to have the lowest fare.
(To its credit, Skyscanner shows you not only the prices for each of the OTAs, but also its users' star ratings for each.)
With any unfamiliar company, make sure you vet them.
Do a quick search on "[name of company] complaints," and run the name through BBB.org.
Keep in mind that a few complaints don't mean the outfit is no good—even stellar companies garner grousing). But do look for complaint patterns that might make you wary.
In the end, you might up choosing, say, the third least-expensive OTA to make your booking because it had a better rating.
Reid's shortcut to the best fares
All of the airfare hunting techniques mentioned on this site have merit, but, honestly, if I had to narrow it down to two crucial places to check, they would be:

1) The aggregator Momondo
2) The consolidator AutoEurope

Nine times out of ten, I end up booking my plane tickets to Europe through one of those methods.
Check several aggregators
The bots are always getting smarter about finding great fares—but they're not yet perfect.
For example, when I went to get a screen-grab for the graphic at the top of this page, I put the same dates on a NYC-London itinerary into several aggregators.
I was really after the visual—an image that would best illustrate the fact that multiple sites and airlines were being searched—but in the process noticed a serious discrepancy in the fares each were able to find. I stuck all the screenshots in the photo gallery so you can compare, but to sum up: on this particular search, the cheapest overall fare was $440 on a WOW flight with a stopover in Iceland, which both Google and Skyscanner found.
The cheapest nonstop flight the aggregators collectively found was on Norwegian, but here the results got screwy. Skyscanner found that flight for $446, Momondo that same flight for $531 (though it also found a cheaper alternative: $501 on British Airways). Google found $555 for the Norwegian flight, and Hipmunk could only do $569 (though Hipmunk also had a cheaper nonstop on tap: $541 on Air India.)
However, all that was just on that particular search. On another date or route, perhaps Momondo might have come out on top.
In other words, it pays to check them all—and that doesn't take long.
Check the major airlines directly
Another potential drawback to meta-searching—and to the big search engine bookers, for that matter—is that sometimes an individual airline might have a special sale going on, or its Web site features an option that lets you be fuzzier about departure and arrival times and dates.
Either of those situations may generate much lower fares than the sort of straight search most meta-search engines (or booking sites) performs.
Aggregators can be a good way to sort through and compare all the sites with ease, but you may miss that incredibly cheap needle when you're looking at the whole haystack at once.
It can pay to give a quick check on the websites of whatever major airline uses your nearest city as a hub, plus the major airline(s) of the country in question (in this case, British Airways and Virgin Atlantic) just in case.