Opaque airfares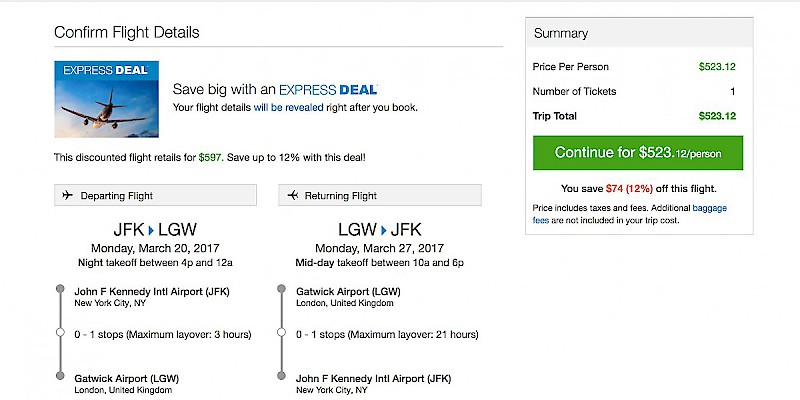 How opaque fares work—"Express Deals" on Priceline and "Hot Rates" on Hotwire
"Supply and Demand" is a two-way street, and the Internet is the traffic cop that finally pointed that fact out to the travel industry.
Now, when the airline industry has an excess of supply or and lack of demand, it can sell the extra seats at a discount via opaque airfares.
Opaque airfares—Pick a price; take your chances; get savings
You know those commercials for discount clothing warehouses where they crow about their great savings on brand names, only they're not allowed to tell you the brand names?
That's opaque pricing.
Once you put an airfare search into the two booking engines that offer opaque fares—Hotwire and Priceline—it gives you all the pricing options, topped with a fare that is lower than the others, but is missing two elements: airline names, and specific departure times. (Hotwire called these "Hot Rates;" Priceline "Express Deals" or "Priceline Exclusives".)
Unlike the old Priceline bid-on-airfare/name-you-own-price model (which it quietly dropped in the fall of 2016), you do actually get to specify the actual airport.
Your dates (departure/return) and cities (where you are and where you wanna go), and they give you a price to match. You pick the price you like (hint: it's the lowest one). Only after you pay the virtual piper do you find out the name of the airline and precise times of the flights.
The trade-off? You can snag deals up to 40% off published airfares (and 75% off hotel rates).
There's nothing fishy about all this. It's just a way for airlines to move empty seats at amounts that far undercut their published fares without admitting that they're willing to sell seats for so little.
Also, it's not as if you'll be stuck flying My Cousin Sal's Podunk Airline. They are all big names like American Airlines, Delta, Alitalia, Cathay Pacific, Air France, Lufthansa, etc.
(This opaque fares model also extends to thousands of hotels (mostly chains) around the world—including hotels in central Rome starting at $118 in high season. Which hotels? Couldn't tell you. That's what they mean by "opaque.")