Train tickets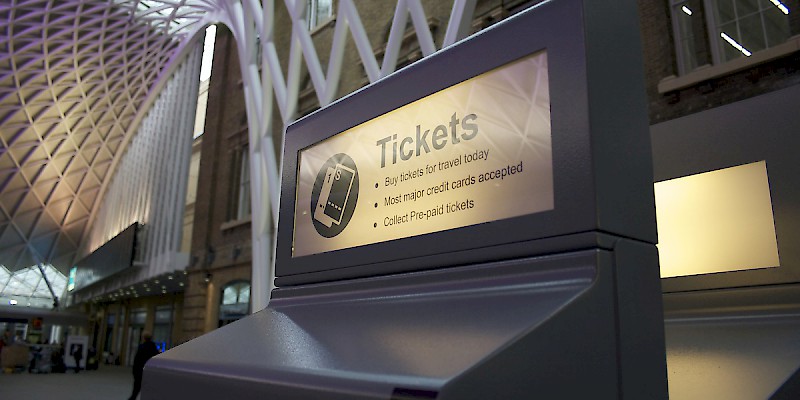 How to get the cheapest fares on British trains
Train fares in the U.K.
There are three categories of fares on British trains:
Advance. You must book these tickets in advance (before midnight the day before travel), and they are only good on the train and time stated on the ticket—but can be remarkably cheap. 
Off-peak. Good for immediate travel on trains/routes that are "not busy" (the definition of that varies, but it usually rules out trains leaving major cities before 9 or 9:30am).
Anytime. The most expensive tickets. You can travel at any time of day, break up the route at intermediate stations, and can catch any train with two days of the date shown on the ticket (if it's a Return, five days on the outbound, one month on the return).
These fares can vary wildly. For example, here are some sample fares from London to Bath:
Advance (Off-Peak): £14
Off-Peak: £33–£45
Advance (Peak): £33–£85
Anytime: £95
How can I buy train tickets in the U.K.?
Most train stations now have self-service automated ticketing machines where you can buy tickets or pick up pre-purchased Advance tickets with a credit card.
With some online ticket purchases you can print the tickets out at home. For any online ticket purchases, you can use the automated ticket machines (and a credit card for ID purposes) to print them out once you arrive at the station.
Every station also still has ticketing windows—but be prepared for long lines at rush hour.
Tips
Train terminology
In British English, a one-way ticket is a Single, a round-trip ticket is called Return.
A day ticket is a return (round-trip) ticket on which you must use both legs on the same day (so heading out in the morning and back in the evening).
First class is for suckers
On some longer distance trains, tickets are available in both standard and class and first class. 
First class costs far more than second class for a modicum more comfort and perhaps an uninspired meal—yet you arrive at the exact same time.
Do not bother with first class tickets. Spend your money better elsewhere.