House sitting
Sleep for free on vacation by watching someone's house (and, often, watering their plants and feeding their cat)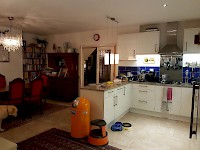 I once lived for six months in a lovely old Victorian house that wasn't mine.
The house was near a large park in a leafy corner of Philadelphia. It had two-foot-deep oak windowsills, working fireplaces, and three bedrooms (I converted one into an office).
I didn't pay a mortgage. I didn't pay rent.
It cost me precisely $0—zero, zilch, nada, bupkis.
No, I wasn't a house guest, or a deadbeat roommate, or a squatter.
The owner of the house was a college professor who was off to spend a semester teaching abroad and merely wanted someone to look after the house and cat while she was gone.
What house-sitting is like
House-sitting is a great way to get a free place to stay—though there are some caveats.
Not that many house-sitting opportunities are available in any one place (at any given time, an agency might have only a few hundred houses, scattered around the world, that need sitting), and due to the nature of this business they are constantly changing. However, as long as your travel dreams are wide and your plans are flexible, you can strike gold.
Most house-sitting gigs tend to be for somewhat longer stays—a month, a season, or even a year—but there are also plenty of options for just a week or two—especially around the holidays when the owners want to travel.
Most of those who want house sitters are really looking for pet-sitters/plant-waterers. No biggie—though if you have a problem with cats or dogs, the number of listings for which you can apply will plummet.
How to find house-sitting opportunities
There are now several sites devoted to pairing people who need house sitters with those willing to water the plants and feed the dog in exchange for free lodging.
Here are the four companies I found that provide some variation of this service, each in a slightly different manner and some more comprehensively than others. Some require membership fees—but since they let you search for homes before joining, you could find the perfect match before paying the fee.
You can't be too picky about precisely where you want to be, but so long as your criteria for a free place to stay is as vague as "somewhere in the U.K.," you'll have plenty of options listed in the links below.