François Boucher
18C French court painter or baroque portraits, landscapes, and genre scenes
François Boucher (1703-70), Louis XV's court painter, studied Watteau and produced lots of decorative landscapes and genre works (as well as portrtaits of his patron—and Louis's official mistress—the famed Madame de Pompadour).
He also designed theater sets (no surprise there) and taperstries, and even served as inspector at the Royal Gobelins Manufactory.
Boucher also said perhaps the most roccoco thing ever: ":a nature est trop verte et mal éclairée" ("Nature is too green and badly lit").
Selected works by François Boucher in England
"Madame de Pompadour" (1759) by François Boucher in the Wallace Collection, London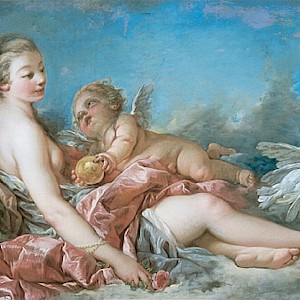 "Venus and Cupid" (1750–60) by François Boucher in the Wallace Collection, London
Where to find works by François Boucher in England
Related pages
Similar interests:
Artists & others: