Caravaggio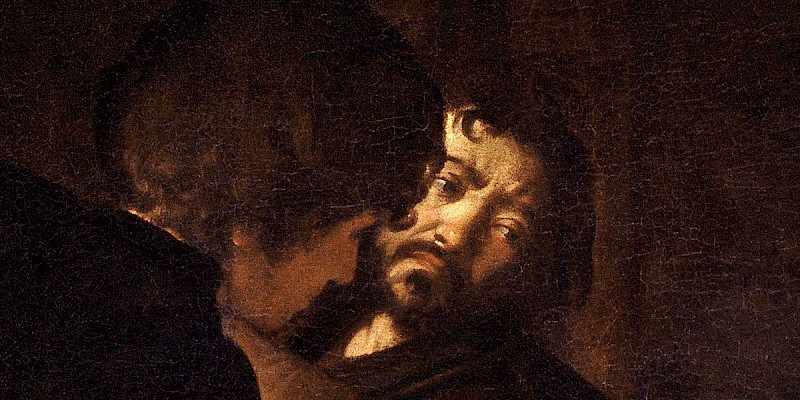 The baroque master of chiaroscuro, turning the dance of darkness and light into story and character
Caravaggio (1571-1610) was probably the most influential painter after Michelangelo on Italian painting style as it transformed from the formal, neo-classical Renaissance into the more earthy, vibrant, and melodramatic baroque style.
The fact that Caravaggio's real name actually happened to be "Michelangelo" as well is just a coincidence.
(Like many painters, Michelangelo Meresi was known by the name of his hometown: Caravaggio, a small town near Milan).
Caravaggio's painting: Birth of the baroque
Caravaggio reinvented Baroque painting, using peasants and commoners as models and including their earthy realism (dirty bare feet were a favorite) in his works.
Caravaggio also pioneered the chiaroscuro style of painting (sometimes called "tenebrism")—contrasting dark, even black areas of deep shadow with planes of color light by strong light and highlights, showing this off to great effect in the wrinkles on faces (he loved those) and folds in clothing.
He painted in manner that was at once intensely realistic and naturalistic, yet also exaggerated and emphasized—sort of a heightened, hyper-realism. The influence of his patented style would echo down the next several centuries, greatly informing the works of Bernini, Ribera, Rubens, Rembrandt, and a host of others.
Whereas it had been mildly scandalous when Renaissance painters first started casting Tuscan peasants in the choirs of angels and groups of monks and Biblical bystanders of their frescoes, it was downright outrageous when Caravaggio used prostitutes to pose for his Madonnas and street hustlers for his saints.
Partly this was down to using the cheapest models possible, but they were also probably people Caravaggio happened to know.
Caravaggio's life: The original bad boy artist
Caravaggio was a hard-living man, always getting into trouble with drinking, gambling, brawling, sword fighting, and whores (both male and female—and it was decidedly not OK to be gay in a 16th-century Rome ruled by the church).
In fact, he ended up in Rome after he had to leave Milan in 1592 following "certain quarrels."
Even having big-time patrons like the Cardinal Scipione Borghese couldn't save him after he murdered a young man in a street brawl in 1606.
He fled Rome and became an itinerant painter, moving first to Naples, where the influence of his style pretty much defined Neapolitan painting for centuries to come, then to the protection of the Knights of Malta (he became an honorary Knight of Malta, but had to leave after another fight in 1608), then to Sicily before making his way back up to Naples.
Caravaggio also amassed many enemies, and had to flee Naples after an attempt on his life (and, yes, another brawl) in 1509.
He ended up in the scruffy town of Porto Ercole on Monte Argentario, an island-like peninsula in southern Tuscany, drinking himself into a stupor and waiting for his allies in Rome to try to get him a pardon on the old murder rap.
Caravaggio died, anonymously on a tavern table, of sunstroke after a walk on a brutally hot day.
His body was tossed into the pile of a pauper's pit grave at the edge of town.
He was 38 years old.
Selected works by Caravaggio in England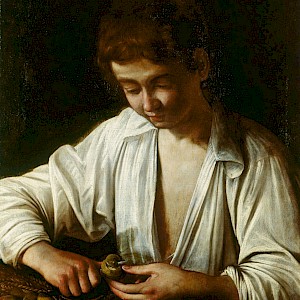 Boy Peeling Fruit (1592-1593) by Caravaggio in the Hampton Court Palace, London
Boy Bitten by a Lizard (1593/94) by Caravaggio (1572–1610) in the National Gallery, London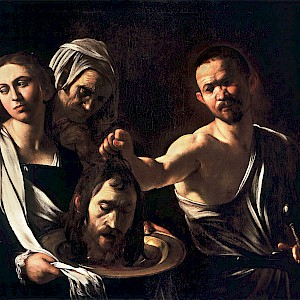 Salome with the Head of John the Baptist (1610) by Caravaggio (1572–1610) in the National Gallery, London
Supper at Emmaus (1601) by Caravaggio in the National Gallery, London
Where to find works by Caravaggio in England
Related pages
Similar interests:
Artists & others: