Peter Paul Rubens
One of the greatest baroque Flemish painters, astoundingly prolific and fond of fleshy women
Sir Peter Paul Rubens (1577–1640) mixed Classical themes and sensibilities with baroque extravagance and his own sensual gaze to become of the premier painters of his age, sought after by princes and potentates, kings and queens—he was even knighted twice, once by Philip IV of Spain and again by Charles I of England.
Rubens would tackle any theme and any subject, churning out mountains of mythological scenes, portraits, landscapes, historical scenes, nudes, bible stories—you name it. And he was astoundingly prolific, with a catalogue of more than 1,400 officially recognized works.
Rubens' fondness for full-figured females—rendered in creamy whites, ripe peaches, and blushing pinks—even gave rise to perhaps the most polite and erudite euphemism for an attractively plump woman: Rubenesque.
Rubens spent most of his 20s in Italy (with a brief break in Spain), soaking up the influences of Caravaggio, Titian, Leonardo da Vinci, Veronese, Tintoretto, and Michelangelo. Rubens returned to Antwerp in 1609, and was soon appointed court painter to the Low Countries' royal couple, Albert VII of Austria and Infanta Isabella Clara Eugenia of Spain. More commissions from courts across Europe soon followed.
Rubens died of gout in 1604, and is buried in Saint James' Church in his native Antwerp.
Personally, I am most fond of Rubens' quick oil sketches and other small studies, because these are reliably by the hand of the master himself, whereas many of the enormous canvasses sprawling across the walls of museums and palaces around the world were largely executed (to the master's designs, of course) by the legion of talented assistants and pupils (including a young Anton van Dyck) that filled his busy studio—though Rubens himself would often paint the all-important faces and expressive hands.
Selected works by Rubens in England
Family of Jan Brueghel the Elder (1513–16) by Peter Paul Rubens in the Courtauld Gallery, London
Samson and Delilah (1609–10) by Peter Paul Rubens (1577–1640) in the National Gallery, London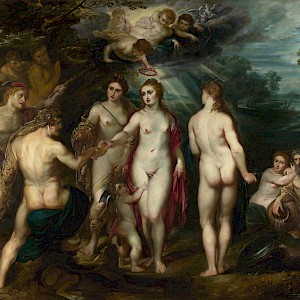 The Judgment of Paris (1597/99) by Peter Paul Rubens (1577–1640) in the National Gallery, London
"The Holy Family with Sts Elizabeth and John the Baptist" (c. 1614) by Peter Paul Rubens in the Wallace Collection, London
Where to find works by Rubens in England
Related pages
Similar interests:
Artists & others: