London bus tour
★★
☆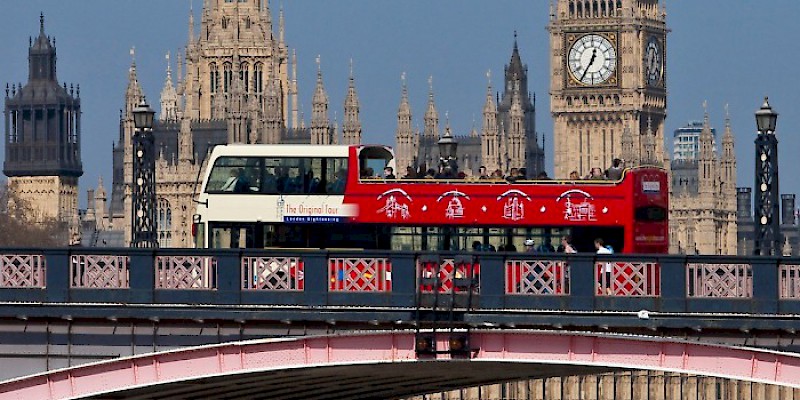 Take a hop-on/hop-off double-decker sightseeing bus tour of London
You can get an excellent overview of the city's layout, and see many of the architectural sights at a snappy pace, from the top of an open-air, double-decker bus on The Original London Sightseeing Tour.
You'll find flyers all over the place outlining the different tours offered by this hop-on/hop-off bus with running commentary.
At £30 ($45), the "Original Tour" is the best all-around, spinning two-hour loops through the city, visiting various top sights with 15 minutes between buses.
You can hop off any bus, tour around a neighborhood or sight, then hop on the next one that comes along, all day long.
There are actually six color-coded routes. 
Three are sightseeing routes with commentary (live on the Yellow route; recorded and multi-lingual on the Red and Blue routes).
The other three itineraries act more as transportation links between main transit hubs and major sights.
(You can see a image of this map in the Photo Gallery to the right—or, if you're on a smaller screen, scroll down)
You can ride any or all of these routes for as long as your tickets is valid.
Tickets are good all day—and there's a 48-hour version available, too, that just costs an extra £10 ($15).
Free cruise and walking tours
The ticket also covers a free river cruise on the Thames between the Tower of London and Big Ben/Parliament (at Westminster Pier), as well as several free guided walks:
The Changing of the Guard at Buckingham Palace
Jack the Ripper walking tour
Rock and Roll walking tour 
Tickets
Bus Tour Tours
These might include Bus tour
More tours
Activities, walks, & excursions
Related pages
Similar interests: