London taxi cabs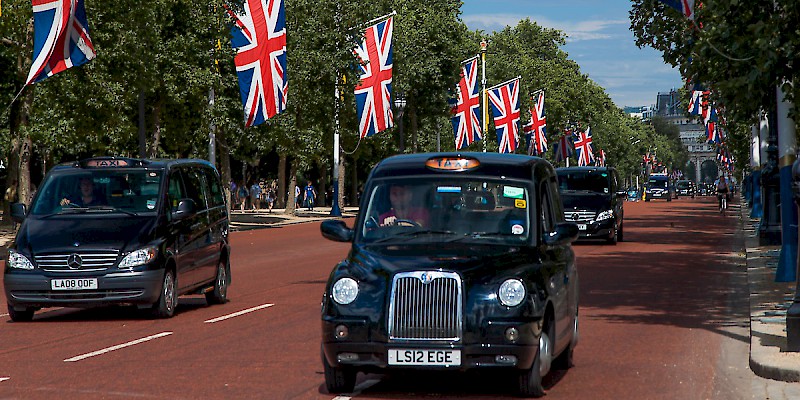 The famous black taxi cabs of London—plus minicabs, private transfers, and chauffeur services
London's Tube and buses can get you around town nicely, but for longer distances, more convenient travel, travel at night, luggage-laden trips to and from a train station, or just the novelty of riding in one of those fabled, incredibly spacious London black cabs, you may opt for a taxi instead.
The drivers are highly trained and experienced—and also veritable treasure troves of London information. The drivers know every thoroughfare, back street, and hidden alley of this amazing city—a mental map and data set called the "The Knowledge" for which there is a rigorous test to pass—as well as a lot of London's history.
In fact, many people use these drivers as auxiliary city guides, asking them for information as they ride.
London cab prices, however, are far from a bargain. Expect to pay anywhere from £8 to £22 for a trip in Central London— a bit more at night.
How much does a taxi cab in London cost?
Taxi fares depend upon the time of day (rides on weekdays between 6am and 8pm are cheapest), and distance or (if crawling in traffic) time traveled.
The actual breakdown is somewhat laughable, since it parses segments down to the fraction of the kilometer, so generalizations are handier.
There's a minimum charge (flag fall) of £2.40.
There is no surcharge for luggage or extra passengers.
If you use a credit card or debit card, you'll pay a surcharge of 10% (with a £1 minimum).
There is a £2 surcharge for phone or online bookings.
Cabbies cannot refuse to take you on any ride of up to 12 miles and/or 1 hour (or to Heathrow, which incurrs a £2.80 surcharge).
In practice, most rides in central London run £8–£22.
Here is a ballpark estimate chart:
Distance

Approx. journey time

WEEKDAYS
(Mon–Fri, 6am–8pm)
(Tariff 1)

EVE./WEEKENDS
(Mon-Fri 8–10pm)
(Sat–Sun 6am–10pm)
(Tariff 2)

NIGHTS
(Daily 10pm–6am)
(Tariff 3)

1 mile

6-13 min

£5.60–£8.80

£5.60–£9

£6.80–£9

2 miles

10–20 min

£8.60–£13.80

£9.00–£14

£10.40–£14.80

4 miles

16–30 min

£15–£22

£16–£22

£18–£28

6 miles

28–40 min

£23–£29

£28–£32

£28–£33

Heathrow–Central London

30–60 mins

£45–£85
How can I get a taxi cab in London?
To get a taxi in London you can:
Hail a taxi on the street.
Find one at a taxi rank (stand) outside major rail stations, hotels, department stores, museums, and squares.
Call ahead for a taxi (or use an app) to come pick you up (£2 surcharge).
Where to call for a London cab:
What are minicabs?
Minicabs are meter-less taxis that operate out of offices rather than drive the streets for fares. (In the U.S. these are often called "car services," though Londoners use minicabs for far more than airport rides and corporate pick-ups.) Think: Uber—only minicabs have been around for decades. (And, yes, Uber is in London, too—just another variant on the minicab model.)
Minicabs operate on set fares (usually 10%–30% lower than the equivalent black cab fare), though you do have to wait for one to show up after you call. They are most useful late at night, after the Tube stops running and relatively few black taxis are available.
Technically, you must call up and order a minicab (or use an app to book one). Those minicabs that cruise the streets, looking for fares, are acting illegally. You should not get into a minicab you haven't ordered. That being said, of an evening you can always find minicabs cruising around Leicester Square, Piccadilly, and other centers of the West End nightlife scene.
Make sure you get a minicab that is licensed by the Public Carriage Office (is has a sticker in the windows with the diamond-shaped "Licensed Private Hire Vehicle" hologram).
Negotiate the fare before you get into any minicab.
There are dozens of minicab companies. The easiest way to find and book a local minicab (if you have Internet service) is to download one of the minicab apps listed under "Useful Links".
Or text CAB to 60835 and you will receive a return text containing the contact numbers for the closest black taxi company and closest two minicab outfits. (This costs 35p in addition to the regular texting charge.)
TAXI TOURS
Tips
Do not use a taxi for the airport
Do not use a black cab taxi to get to or from a London airport. The service is great, sure, but it is incredibly expensive—and wholly unneccesary.
For example, a taxi to or from Heathrow will run you £45–£85 (that's $64–$121). You can get the same airport-to-hotel service for just £13–£36 ($19–$52) per person by booking a private transfer from Viator.com ahead of time.
General tips of similar interest
Related pages
Similar interests: