Leonardo da Vinci
The ultimate Renaissance Man—Artist, engineer, architect, scientist, inventor...
Leonardo da Vinci (1452–1519)—born, out of wedlock, to a local notary in a small town west of Florence called Vinci—was the original "Renaissance Man," dabbling his genius in a bit of everything: a brilliant painter, inventor, and natural philosopher who was always happier tinkering with new techniques and materials than finishing commissions.
This was was the guy who painted a delicate Annunciation so sweet it can reduce you to tears, was obsessed with the movement of running water (filling notebooks with his sketches of it), and in his spare time doodled plans for the forerunners of both helicopters and machine guns.
Leonardo invented such painterly effects as the fine haze of sfumato, "a moisture-laden atmosphere that delicately veils . . . forms."
Little of Leonardo's remarkable painting survives, however, as he often experimented with new pigment mixes that proved to lack the staying power of traditional materials. Other times, well, he just got distracted by something new and left the work unfinished.
Lingering charges of sodomy eventually led Leonardo to leave Florence for the ducal court in Milan in 1482, bounced around a bit to Venice, Rome, and elsewhere, and eventually spent his final years in France working for the king.
Selected works by Leonardo da Vinci in England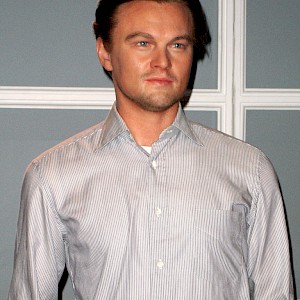 Leonardo DiCaprio wax replica in the Madame Tussauds, London
The Virgin of the Rocks (1503–06) by Leonardo da Vinci (1452–1519) in the National Gallery, London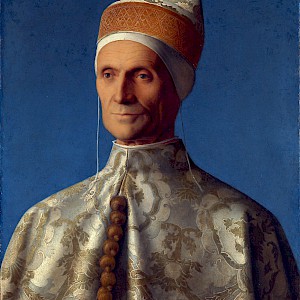 Portrait of Doge Leonardo Loredan (after 1501) by Giovanni Bellini (1430–1516) in the National Gallery, London
Where to find works by Leonardo da Vinci in England
Related pages
Similar interests:
Artists & others: